NEXT STORY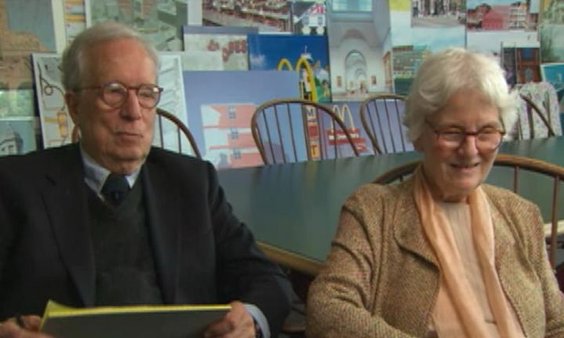 How sections could have helped New Orleans
Campus planning for Dartmouth College
Robert Venturi and Denise Scott Brown
Architect
1
...
6
7
8
9
10
...
12
[DSB] Well, as an academic I'd done considerable campus planning. So, I said, 'We're very busy right now', and they said, 'We'll wait'. Have you ever heard of someone saying, we'll wait for an architect?
So, we started out mapping the way I'd mapped in cities and the way we'd done it in research projects and in studios. Mapping city town uses in Dartmouth and college uses, and putting them all together. And their Medical Center was moving out. I couldn't believe that they would dump a whole building – that was in 1969 – and many labs. After I did many more medical center planning I knew exactly what they were talking about.
So, Dartmouth said to us… I said, 'It's as if the lake dried up in Chicago and you've got all this land right, you know, half of your city sitting there waiting for you to develop as a campus, the Medical Center'. And so, they said, 'Help, if we don't watch out we'll become Dartmouth Institute of Technology. We've inherited all these labs'. So, we began thinking with them, about what they could do and what they really needed and how they should… and we produced a campus plan for them based on our mapping. And evolving from within the system not imposing from the top. And then, we went on to design the major first new increment a, kind of, pièce de résistance of the plan, which was an addition to the library there. They needed a library twice the size so we had to add the other half. And so, we had this great joy of going from a campus plan and evolving from within that the needs of the new building. And taking the movement systems from the outside and from all the philosophies you've had about meeting and community and relationships and academic relationships, into a building, and then out again the other side.
And one thing we learnt is that, planners don't think of levels very much. Even landscape architects when they work, miss the facts that we've spotted. For example, that the lake in Michigan could really give us a great many cars parked and no harm done to the relationships, because dipping down and our going over it gave us these two different kinds of uses. Well, the same thing was true in Michigan and we've used the same technique at Penn and other places. We can take uses in at a basement level on one side and at ground floor level on the other, and meld them. Strongly, we did that at the Frist Campus Center at Princeton too.
So, one thing we can contribute because we're architects as well as planners, is that we can use levels to good effect. We know sections as well as plans, which planners don't do. If the people in New Orleans had known sections as well as plans, they could have saved many lives. They don't draw in section.
Internationally renowned architects Robert Venturi (1925-2018) and Denise Scott Brown (b.1931) have helped transform contemporary design through their innovative architecture and planning. Winners of numerous prestigious awards, their designs have championed multiculturalism, social activism, symbolism, pop culture, history and evolving technologies.
Title: Campus planning for Dartmouth College
Listeners: Thomas Hughes
Thomas Hughes is Mellon Professor Emeritus of the History of Science at the University of Pennsylvania and Distinguished Visiting Professor at the Massachusetts Institute of Technology. His most recent books include Human Built World, Rescuing Prometheus and American Genesis. He is a member of the American Philosophical Society, US National Academy of Engineering, Royal Swedish Academy of Engineering Sciences and the American Academy of Arts and Sciences.
Duration: 3 minutes, 1 second
Date story recorded: 22nd to 23rd September 2006
Date story went live: 27 May 2010