NEXT STORY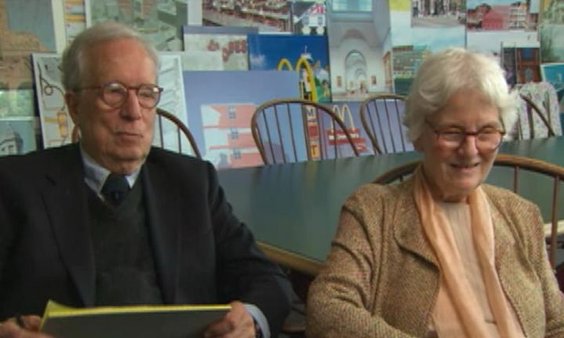 Cosmopolitan and local
An interview at Hagia Sophia and work for the American Embassy
Robert Venturi and Denise Scott Brown
Architect
1
...
7
8
9
10
11
12
[RV] We even had an interview in Hagia Sofia, which was fascinating. It was really funny. It was with Denise, me… what's her name?
[DSB] Zaha Hadid.
[RV] Zaha Hadid, who was a vital enemy.
[DSB] And Süha Özkan.
[RV] Süha Özkan is a dear friend, and the guy… the American. You know the American guy?
[DSB] I can't remember who it was.
[RV] It was…
[DSB] Peter Isen?
[RV] Peter Isen yeah, they were all so friendly, it was sort of weird.
[DSB] And I was sitting there in that… in Hagia Sofia and thinking, when I was a little girl in Johannesburg, did I ever think I'd be on television sitting in Hagia Sofia. It's a funny thought. And then, we were asked to do a very nice thing. The American Embassy had been asked to help support… Süha Özkan is a great leader… architectural leader and he organised this. He works for the Aga Khan… he was then… and he organises support, so, he asked for donations. So, the American Embassy's donation was to give scholarships to it… to a group of Turkish students from rural areas, who couldn't afford to go on their own. And then they asked us to come and have lunch with these students and talk with them – as another offering from the American Embassy – to these students. So, we sat out in a tent in the grounds of the fair and we had a nice lunch and we all talked. There were about 25 of them, I think, and they weren't as… I think, I suspect they weren't as poor and anywhere naïve as maybe people thought they were. They were just from out of town. But anyway, what I tried to do was think of myself as also having been from out of town and what could I say to them, because I'd had good opportunities, it's true, but I also used them. And if I'd had a mental outlook which said, I'm from out of town, I couldn't have done all of that.
Internationally renowned architects Robert Venturi (1925-2018) and Denise Scott Brown (b.1931) have helped transform contemporary design through their innovative architecture and planning. Winners of numerous prestigious awards, their designs have championed multiculturalism, social activism, symbolism, pop culture, history and evolving technologies.
Title: An interview at Hagia Sophia and work for the American Embassy
Listeners: Thomas Hughes
Thomas Hughes is Mellon Professor Emeritus of the History of Science at the University of Pennsylvania and Distinguished Visiting Professor at the Massachusetts Institute of Technology. His most recent books include Human Built World, Rescuing Prometheus and American Genesis. He is a member of the American Philosophical Society, US National Academy of Engineering, Royal Swedish Academy of Engineering Sciences and the American Academy of Arts and Sciences.
Duration: 2 minutes, 10 seconds
Date story recorded: 22nd to 23rd September 2006
Date story went live: 27 May 2010