NEXT STORY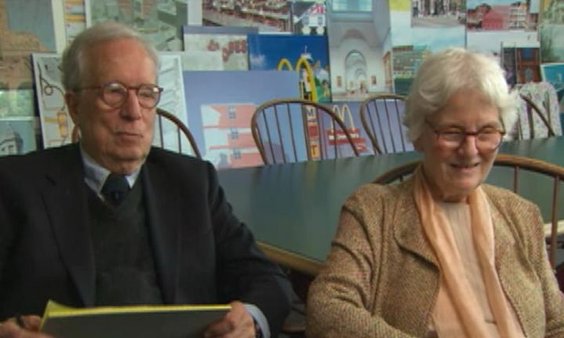 Why are there no female gurus in architecture? (Part 2)
Why are there no female gurus in architecture? (Part 1)
Robert Venturi and Denise Scott Brown
Architect
1
...
8
9
10
11
12
[DSB] Why are there no female gurus in architecture? Because most architects are male, I would say. And to understand the meaning of this, we need to think about the nature of our field and the fact that we ascribe honor, and almost the only honor, to the path that's least measurable – the design aspect. And to be a good designer is a very nebulous thing. First of all it depends on fashion. Who describes you as a good designer? And history is full of discoveries, you know, so and so was a really good designer but it wasn't spotted in his time or her time. And so, if the only thing we honor is something that you won't achieve just by working hard, by doing your homework as it's been put, then, what do you do about it? And I've made a parallel to other situations where people must navigate uncertain, un-measurable waters and without help of scientific instruments, because there aren't any. And that's… you could say in navigation itself, before the advent of compasses. And what did sailors do to get them across the ocean when they had no way to measure – they put a beautiful lady on the prow of the boat and they got across by magic. And so, we use magic techniques when we can't find any others to use. And architects who realise that their fortunes will sink or swim because of their design ability, want to use some magic. So they invent gurus and they try to get a little bit of the guru somehow. The guru must come and lecture and we want to be near the guru. We want to touch a bit of the guru, we'd like to eat a little of the guru, something to ingest into ourselves as magic that we otherwise don't know how we'll get. And so, I think, that's why architects make gurus so that it'll help them with this difficult un-measurable ocean that they're demanded to cross every day of their lives, one way or another, until they realise, lots of other ways to make money in architecture by producing reliable service, for example. But even then, you have to have your designer because one of the ways to get the job is having the designer. And so, it's a conflicted situation and particularly in the highest ranges of architecture, because other architects who will survive in producing run of the mill work because that's what their clients want. But where we operate, it's not an option.
So, now, the next thing is there are no female gurus in architecture. The prima donnas in architecture are all male. And, as I say, I think the reason is because most of the architects are men and you choose a guru to be, kind of, like yourself. In the same way as you choose a wife who, kind of, looks like you – look at all the wedding photographs and see if that isn't true. And you choose an architect who, kind of, looks like you and for that reason I would try to get a look at the client and send someone to the interview who looks like the client. You think that's funny, but it can be a tragedy, you do the wrong thing. So, you try to cover all those bases but in the same way, there's no such thing as a female guru, and a mom and pop guru is just out of bounds.
Internationally renowned architects Robert Venturi (1925-2018) and Denise Scott Brown (b.1931) have helped transform contemporary design through their innovative architecture and planning. Winners of numerous prestigious awards, their designs have championed multiculturalism, social activism, symbolism, pop culture, history and evolving technologies.
Title: Why are there no female gurus in architecture? (Part 1)
Listeners: Thomas Hughes
Thomas Hughes is Mellon Professor Emeritus of the History of Science at the University of Pennsylvania and Distinguished Visiting Professor at the Massachusetts Institute of Technology. His most recent books include Human Built World, Rescuing Prometheus and American Genesis. He is a member of the American Philosophical Society, US National Academy of Engineering, Royal Swedish Academy of Engineering Sciences and the American Academy of Arts and Sciences.
Duration: 4 minutes, 6 seconds
Date story recorded: 22nd to 23rd September 2006
Date story went live: 27 May 2010