NEXT STORY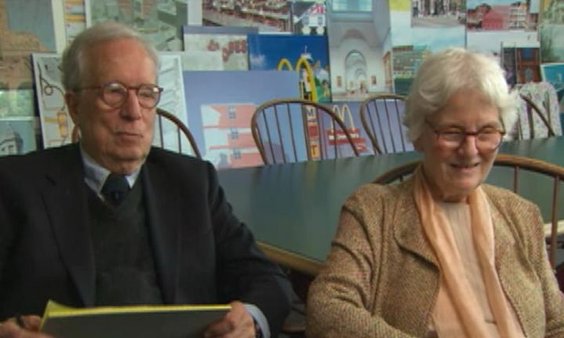 Working in Japan
Sourcing the fabrics for the Hotel Mielmonte Nikko Kirifuri
Robert Venturi and Denise Scott Brown
Architect
1
...
8
9
10
11
12
[DSB] We had another adventure while we were there, particularly Bob. We gathered information wherever we could find it for this use of Japanese culture in the building. In a way that, it was an American interpretation and openly so, but it was valued by them as a contribution because it was our interpretation, an artistic interpretation with love and respect. So, we had lots of little objects from markets and friends who gave us gifts in the traditional Japanese way… gave us objects from markets rather than the traditional lacquer vases and things like that. And common everyday objects, and beautiful ones and religious ones but also comic books and rubber shoes and whatever seemed to be enticing and beautiful and we… in fact we have, I think, about 1000 chopstick holders.
You've spoken of your interest in pop art. Are you familiar with the… renowned Japanese approach of a similar kind called anime?
[DSB] I've heard of it, I've heard of it. But to go on from there, we discovered a book of Japanese indigo fabrics. Now, these are fabrics made on the farms from cotton and they're what farm workers wore and they were made by women and much… many of them were worn by women.
[RV] You call it peasant art.
[DSB] And… yes and so this, well, it was really peasant wear. And this woman who seems to have been married to a manufacturer of cottons, she became interested and she went to the various farms and she bought these old bits of fabric from farmers. And she made this exquisite book and she gave a social history of how they were made too. A very moving history about the women who were the field workers and how they would try to improve themselves and the whole… just the combination we love, the social and the art and the whole thing mixed up. And so, we decided that these would be ideal to use as the base for the furnishings in the rooms. And Akio Izutsu said, 'If you want to do this you will have to go and ask the permission of the lady who wrote the book'.
[RV] This would be for fabrics, for as I say, carpet patterns…
[DSB] Wall coverings.
[RV] Wall coverings, upholstery.
[DSB] Furniture upholstery and all of that. And so, Bob journeyed up into the mountains somewhere and visited this elderly lady and they had a nice time – help of a translator – conversing and she willingly gave her permission for us to take patterns from her book and adapt them. And use them for this room. And so, you go into the room…
[RV] A typical room.
[DSB] The national park is called Nikko Kirifuri. Kirifuri means misty. So, the landscape as you look out of the window is a little blue with mist and then these patterns on the inside are all blue, because of the indigo from which they came. Not an indigo, not a dark indigo, but a pale one, one made paler than that and they cover everything. And it really does relate to the misty landscape outside and it's a lovely feeling of cool. We also did the furniture there, and… except for some 1950s pieces that we then reupholstered in these. And so, that's beautiful, it has a lovely atmosphere in those rooms. And then we invited this old lady to the opening and she came to the opening, walked into the room, looked at it and burst into tears of joy.
Internationally renowned architects Robert Venturi (1925-2018) and Denise Scott Brown (b.1931) have helped transform contemporary design through their innovative architecture and planning. Winners of numerous prestigious awards, their designs have championed multiculturalism, social activism, symbolism, pop culture, history and evolving technologies.
Title: Sourcing the fabrics for the Hotel Mielmonte Nikko Kirifuri
Listeners: Thomas Hughes
Thomas Hughes is Mellon Professor Emeritus of the History of Science at the University of Pennsylvania and Distinguished Visiting Professor at the Massachusetts Institute of Technology. His most recent books include Human Built World, Rescuing Prometheus and American Genesis. He is a member of the American Philosophical Society, US National Academy of Engineering, Royal Swedish Academy of Engineering Sciences and the American Academy of Arts and Sciences.
Duration: 4 minutes, 3 seconds
Date story recorded: 22nd to 23rd September 2006
Date story went live: 27 May 2010