NEXT STORY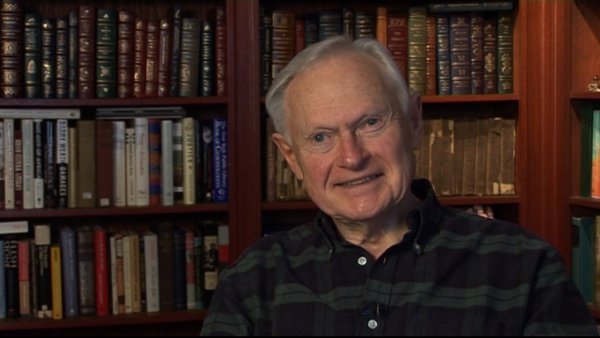 Depression
1
2
3
4
5
...
7
I had a six-month hiatus, and I had a travelling fellowship to work in either… I could have worked in either… pardon me, Sweden or England. And I knew most Swedes in academic medicine would speak English, but I wanted to go to England and I wanted to work with a cardiac surgeon named… at that point, he was Sir Russell Brock; he later became Lord Brock. He had done the first closed-heart opening of a mitral valve in England in the 40s. And I went and worked with him for six months as his… one of his assistants. I was near the end of my residency, I had a year and-a-half to go, but I had this six-month hiatus. So, I worked in England and one day was invited to the home of some English people and when their - I was 28 - when their 20-year-old daughter came home Sunday dinner. You know what English Sunday dinners are like... roast beef, Yorkshire pudding, the whole schemer. It was amazing. Anyway, she came home and I took one look at her, and I just decided that's the person I'm going to marry. And, you know, always so full of myself, even in those days. More than ever, because I had become Chief Resident at Yale, you know. Everybody thought I was going to do great things. And I convinced her in six weeks to marry me, and so we were engaged for another six weeks, and then we got married. And of course, we had nothing whatever in common, nothing at all. She was 20, I was… by that time, I'd turned 29.
She was a pianist, and a very gifted pianist, but a young woman who… just was about as unworldly and innocent as could be, and it was… it was dreadful. I brought her home and immediately went into six months of cardiac surgery residency, where I would leave in the morning at 7:00 and not be home until 10:00 at night. And here she was, this 20-year-old innocent, and people were very good to her and tried to help her, but what I didn't know at that time was that she was bipolar. I didn't know that either. And for the next years, she would become depressed for six months, and when April came, she'd suddenly, within days, become manic. And we had some really bad times, but we did have two perfectly wonderful children.
Sherwin Nuland (1930-2014) was an American surgeon and author who taught bioethics, the history of medicine, and medicine at the Yale University School of Medicine. He wrote the book How We Die which made The New York Times bestseller list and won the National Book Award. He also wrote about his own painful coming of age as a son of immigrants in Lost in America: A Journey with My Father. He used to write for The New Yorker, The New York Times, Time, and the New York Review of Books.
Title: I meet my first wife
Listeners: Christopher Sykes
Christopher Sykes is a London-based television producer and director who has made a number of documentary films for BBC TV, Channel 4 and PBS.
Tags: Sweden, England, 1940s, Yale University, Russell Brock
Duration: 3 minutes, 17 seconds
Date story recorded: January 2011
Date story went live: 13 September 2011