NEXT STORY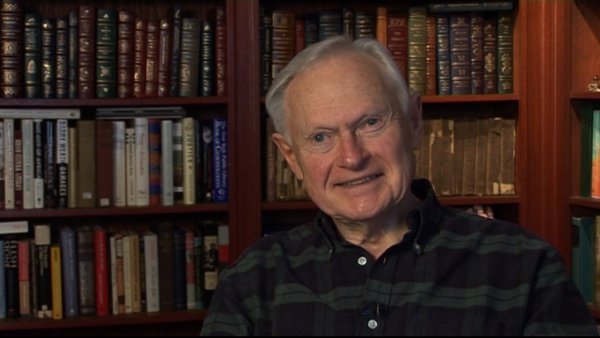 A sense of wonder
Why people invented religion
1
2
3
4
5
...
7
And when I talked earlier about my becoming fascinated with the cadences of my own speech, I'm actually aware, in my writing, of a rhythm to it. I don't know if lots of people are aware of that. Maybe nobody's aware of that, but I've always had this sense, and I listen to recordings of myself on radio. You know, every time you do a radio thing, they send it to you. And I realise that it's there. Now, I have to look for it, obviously, but I know it's there and I recognise it. So, this is my notion, this is my as-yet untestable hypothesis, that because of the chaos that's within, order becomes of life-giving significance to us. And that's what the human spirit is: it's a sense of order. In that book, I used an epigraph from St Augustine, in which he says that, 'Men wonder at the mountains and the seas, but they pass themselves and never stop to wonder'.
And I remember giving… I've talked about this at various lectures, and one of the lectures I gave was at a Catholic college here in New Haven called Albertus Magnus, and the president of the college… I was talking about… this is why we have invented religion: not just so that there should be an afterlife and we don't have to face our non-existence, but that religion provides for us a predictable rhythm to our lives, whether it's the Sabbath once a week, or particular rituals that we always carry out. It's very reassuring to someone who is essentially aware of the chaos within. And the president of the college, who was a member of a religious order, a nun, said to me later, as I was talking about religion being an invented thing, and the need for God being something that's consistent with my sense of needing that kind of reassurance, she said, 'You know what it is that you and I share? We share a sense of wonder'. And I hadn't even said anything about Augustine, as the Protestants call him, or Augustine, as the Catholics call him, and yet she recognized that what I call a spiritual sense is really a sense of wonder.
Sherwin Nuland (1930-2014) was an American surgeon and author who taught bioethics, the history of medicine, and medicine at the Yale University School of Medicine. He wrote the book How We Die which made The New York Times bestseller list and won the National Book Award. He also wrote about his own painful coming of age as a son of immigrants in Lost in America: A Journey with My Father. He used to write for The New Yorker, The New York Times, Time, and the New York Review of Books.
Title: Why people invented religion
Listeners: Christopher Sykes
Christopher Sykes is a London-based television producer and director who has made a number of documentary films for BBC TV, Channel 4 and PBS.
Tags: Albertus Magnus College, New Haven, St Augustine
Duration: 3 minutes, 13 seconds
Date story recorded: January 2011
Date story went live: 04 November 2011