NEXT STORY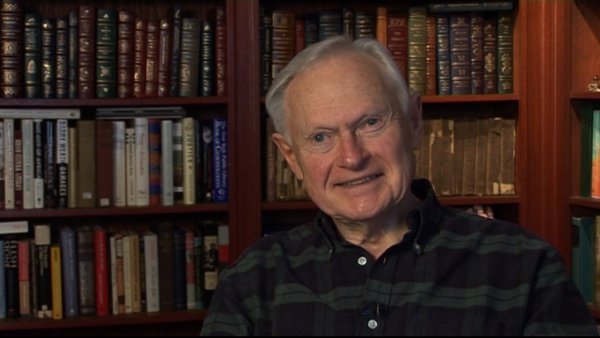 My method of writing
The great success of How We Die
1
2
3
4
5
6
7
I had developed a friendship with William F Buckley Jr at that time. I'd known him for about eight or ten years. I invited him to speak at Yale and he'd come, and we'd sort of hit it off. And so, we would see each other from time to time. I mean, actually, he came to this house, I went to his house. And he called me. They had sent him the galleys for a blurb or something, and he called me and he said, 'You know, this is an amazing book. I want to review this book for The New York Times'.
I thought to myself, Jesus, what kind of luck is this? Buckley himself is going to review the book and he already tells me he loves the book? Well, he's William F Buckley, so he can call the Times and say: there's a book I read, I want to review it.
So, he reviewed it, and what an amazing review it was. I've got it framed. He sent it to me, framed, and I put it on the wall. It's going to stay there until they carry me out of this house. And all the reviews were uniformly terrific. And so, they sent me out on a book tour, and everywhere I go, there are crowds of people. You know, it came out in February, with snow all over the place, and the publicists and I were tramping through the snow and then we get a call from the Oprah Winfrey Show, and Knopf chief of publicity himself goes with me to Chicago, and it was a great… it was a great success. You know, Oprah with all of her emotionalism, and the whole thing. She was calling me Dr Shep, and it was just…
So, the book starts selling like crazy. It's on the bestseller list for 17 weeks, a lot of it at number two. It never made number one. There was some extraordinary book that stayed at number one. I can't remember what it was. And then later, when the paperback came out, it was on for another 17 weeks. I recorded it myself. The sales are astronomical and foreigners want it, so now it's been translated into 29 languages. And I've been to China with it, I've been to… many European countries a number of times with it, and I'm now a celebrity, and everybody wants me to come and lecture here, and everybody wants me to come and lecture… And so, I become known as someone who lectures on various topics. I lecture on death and dying, I lecture on ageing, I lecture on various topics in medical history. And I'm enjoying that. I enjoy getting on a plane and going to Seattle or wherever it is, or to Paris, as I have.
The book tour, part of that book tour, was a European book tour, and Sarah went with me, and for part of it we even took our two younger kids. They were with us in Scandinavia, they were… we spent Thanksgiving in Holland, as a guest of my Dutch publisher. He took us to a huge dinner in Amsterdam on Thanksgiving Day. You know, we've just had a wonderful time with this book, and the sequel to it was this book that I call the Wisdom of the Body, that in paperback became How We Live, to take advantage of the title. And then I just started writing books. Well, none of them has ever had the success of How We Die, which sold half a million copies in America alone, and who knows how many copies it sold in those 29 and more countries?
Also, when I say it was translated into 29 languages, there's a Spanish for Spain, there's a Spanish for South America, there's a Portuguese for Portugal, there's a Portuguese for Brazil, this kind of thing. There's a Chinese for Taiwan and then there's a Mandarin for mainland China. You just… so it just keeps going. I keep the Hebrew copy and the Arabic copy next to each other on the shelf, hoping… I can have an effect on the peace process, but it never has… never has worked.
So that became my book, and no matter how many books I wrote letter, I think about 11 or 12 now, whenever someone says to me, your book, I know exactly what they mean.
Although I must say, in the last five years, more and more people refer to my memoir, the book that I call Lost in America, when they say, your book.
Sherwin Nuland (1930-2014) was an American surgeon and author who taught bioethics, the history of medicine, and medicine at the Yale University School of Medicine. He wrote the book How We Die which made The New York Times bestseller list and won the National Book Award. He also wrote about his own painful coming of age as a son of immigrants in Lost in America: A Journey with My Father. He used to write for The New Yorker, The New York Times, Time, and the New York Review of Books.
Title: The great success of "How We Die"
Listeners: Christopher Sykes
Christopher Sykes is a London-based television producer and director who has made a number of documentary films for BBC TV, Channel 4 and PBS.
Tags: Yale University, The New York Times, Oprah Winfrey Show, How We Die, How We Live, William F Buckley Jr, Sarah Peterson
Duration: 5 minutes, 19 seconds
Date story recorded: January 2011
Date story went live: 04 November 2011