NEXT STORY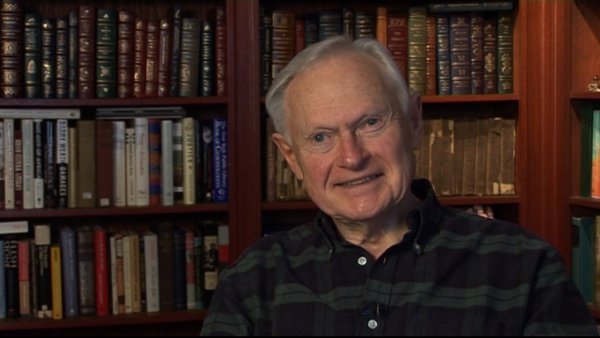 'If I could be the master over disease'
1
...
3
4
5
6
7
[Q] How are your ideas about death and your relationship to death might have changed over your life. I mean, you're in a position of not only having written How We Die, but also having seen a lot of it, so maybe have more to say about this than most people, but I wonder what you would have to say about that?
Well, clearly, ever since 1994… I have become the person who is supposed to be very wise about death and dying. And I don't suppose I'd have any more wisdom about it than many, many, many people, especially clinicians and nurses who've spent a lot of time with people whose outlook is very grim or essentially impossible, but predictable. And to begin with, think about my personal history. Think about the fact that I'm born into a family has had severe trials and tribulations in this country from the point of view of health. By the time I was born, two of my uncles had died of tuberculosis. In New York, my grandfather had died of tuberculosis. There was this aunt who had died in childbirth, another aunt who was dying of late-stage kidney disease, what used to be called Bright's Disease, chronic glomerulonephritis. My mother had had one stillbirth child and another child who died at two and a half, three, something like this, a much-loved and apparently very, very bright child.
Death was part of the legend and lore of our family, and also my mother. I hadn't been on Earth more than five or six years when I came to the realization that my mother had some sort of illness. I didn't know what it was, and it took some long time for the diagnosis to be made, and took some long time for people to be willing to talk about it, because in the 30s and 40s, you didn't talk about cancer. You just didn't. I saw her hospitalized three, four times during the years from the time I was about five until she died shortly after my eleventh birthday. My father had the chronicity of late-stage syphilis and was going in and out of the hospital all the time with various problems associated with that. My grandmother died at 97, and the first 18 years of my life, I was living in this small, four-room apartment with, among other people, my grandmother and watching her gradually go downhill.
So, I was very familiar with death. I was very familiar with mourning and mourning customs, at least among Jews. I was very familiar with grief, I was very familiar with… sorrow and loss. I was very familiar with the way that you have a whole construction in your life based around the people you truly love, and one of them suddenly disappears. And maybe not just someone you truly love, but someone… whose life… has moulded what your life is, like your mother.
Sherwin Nuland (1930-2014) was an American surgeon and author who taught bioethics, the history of medicine, and medicine at the Yale University School of Medicine. He wrote the book How We Die which made The New York Times bestseller list and won the National Book Award. He also wrote about his own painful coming of age as a son of immigrants in Lost in America: A Journey with My Father. He used to write for The New Yorker, The New York Times, Time, and the New York Review of Books.
Title: Death in my family
Listeners: Christopher Sykes
Christopher Sykes is a London-based television producer and director who has made a number of documentary films for BBC TV, Channel 4 and PBS.
Tags: New York
Duration: 3 minutes, 56 seconds
Date story recorded: January 2011
Date story went live: 04 November 2011