NEXT STORY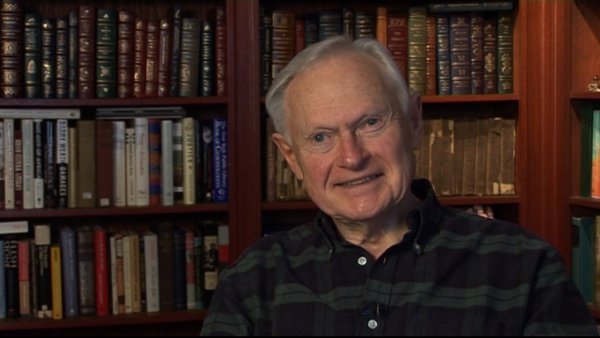 Appreciation of family and friends
1
...
3
4
5
6
7
Everything that had been gone for 35 years came back to me. That was in 2007. It took me two years to recover. I had to have electroshock treatment again, I had to go on - I hadn't had any medication in 35 years – I had to go back on medication. I was hospitalized for brief periods, five, ten days. One was five and one was ten. Twice.
And it looked for a while as if I was never going to get out of this. I don't know what I would have done if… it hadn't been for my wife, Sarah, who stood with me through thick and thin, and a wonderful psychiatrist that had been recommended by some friends of mine who were psychiatrists. Two years I lost, and of course I had lots of speeches, speaking engagements that I had signed up for a year before. They all had to be cancelled. Other obligations had to be cancelled. I couldn't teach this course I teach on the history of scientific medicine. I had been teaching it just about every other year, but I couldn't teach it from 07 until last year. I went back to it last year. Just as bad as the original depression of 35 years before had been. Now, when I got out of it, I was not only my old self, but I was a wiser old self. In the first place, I had learned that it's possible for this to happen again. And now I have to think about that for the rest of my life. So whereas I had been sort of devil-may-care in this attitude about the possibility, in my attitude about the possibility of its coming back, I'm very cautious now. I'm very careful about the amount of obligations I take on. I had been working very, very hard up to that point. You know, anybody who wanted me to talk, I got on the plane and I went and I talked, whether it was for a big fee or whether it was for nothing, just because it was a group that I was interested in doing something with. Well, that's all stopped. I had been working so hard that I really feel I had neglected the previous closeness of my relationships with my children, and actually, even with Sarah, believe it or not. I mean, we always enjoyed each other's company, but I think I had neglected the, sort of, nurturing that we have to do of a relationship all through our lives. I came out of that with new priorities, and my first priority was my family. And work became my second priority, but way down the list. And, you know, all four kids have been telling me in the past few years, and Sarah certainly has told me, that I'm a different person.
Sherwin Nuland (1930-2014) was an American surgeon and author who taught bioethics, the history of medicine, and medicine at the Yale University School of Medicine. He wrote the book How We Die which made The New York Times bestseller list and won the National Book Award. He also wrote about his own painful coming of age as a son of immigrants in Lost in America: A Journey with My Father. He used to write for The New Yorker, The New York Times, Time, and the New York Review of Books.
Title: Depression returns
Listeners: Christopher Sykes
Christopher Sykes is a London-based television producer and director who has made a number of documentary films for BBC TV, Channel 4 and PBS.
Tags: Sarah Peterson
Duration: 3 minutes, 28 seconds
Date story recorded: January 2011
Date story went live: 04 November 2011