NEXT STORY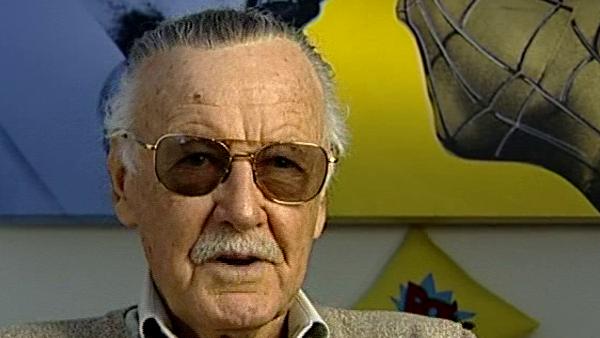 'It's clobbering time'
The portrayal of Marvel characters in movies
1
2
3
4
5
Marvel has been very lucky. They've… the movies that have been based on our characters really have been great… Spider-Man and the X-Men especially. The… we were so lucky to get Sam Raimi to direct Spider-Man, and to get Bryan Singer to direct the X-Men, and… those movies could not have been made as well years ago because now the special effects that we have… I was talking to one director the other day who said: 'Stan, there is nothing you can dream of, nothing you can imagine, that we can't put on the screen', which is true. And of course we did the movie of The Hulk, we did Daredevil. I… I've had fun, I do little cameos in most of these movies, and… they're going to do another X-Men, they're going to do another Spider-Man, they're working on another Fantastic Four, and they're also going to do Iron Man, they're going to do Captain America. On and on. I mean… every major character of Marvel's will be a movie. You know, I didn't mention the X-Men. There's one thing I could say about X-Men. I wanted to do another group and I thought, how could I make them different? And also, I've already done gamma rays and cosmic rays and radioactive spiders and… how can I give them some power in a different way? And then it occurred to me, I'm going to take the easy way out. The cowardly way. I'm going to just say they're mutants. We know that mutations exist in life. There are five-legged frogs and things like that, so I'll just give them whatever powers I want and say they're mutants, they mutated that way and it'll save me having to look for the names of other rays. And another thing I tried to do… I tried to show — and this is just a subliminal part of it, but a lot of readers have caught it — one of the themes is – it's an anti-bigotry theme – we shouldn't hate people just because they're different, because our heroes of the X-Men are all different. Different from average humans, and because they're that different, the general public hates them, hounds them, harasses them, fears them. And again, when I used to do a lot of college lecturing so many of the students would get up and say, 'We feel that the anti-bigotry message of the X-Men is a very strong one', and of course Bryan Singer — the director — really latched on to that when he did the movie. And… and I was very happy about that.
[Q] And how much involvement do you have with the films? Do you come in at the script stage, or… ?
I have… I have actually no involvement at all with the movies. It's not for me to tell anybody how to make a movie because these people are better than I'll ever be, and also, even if I wanted to I'm not really an executive at Marvel any more. I have the title Chairman Emeritus which, as I'm sure you know, is an honorary title. It sounds great, I love saying, 'Oh, I'm Chairman Emeritus of Marvel', but it doesn't mean anything.
The creative genius of American writer, Stan Lee (1922-2018) brought us 'Spider Man', 'X-Men' and 'The Hulk'. They climbed tall buildings and fought the bad guys, but had normal worries too, about love, acceptance and family. Readers loved them and Marvel Comics, with Lee at the helm, went on to become hugely successful. In 2010 the Stan Lee Foundation was founded to focus on literacy, education and the arts. On January 4, 2011 Lee received the 2428th star on the Hollywood Walk of Fame.
Title: The portrayal of Marvel characters in movies
Listeners: Leo Bear
Leo Bear is a Hollywood-based features writer. Her background is in news and features writing. Leo spent five years on the entertainment newsdesk at BBC Worldwide before going freelance and moving out to Los Angeles. She specialises in writing lifestyle features, celebrity interviews, health stories and travel features for publications including Eve Magazine, OK! Magazine, Total Film, TV Hits and Conde Nast Gourmet Travel Guide.
Tags: Marvel comics, Spider-man, X-Men, The Hulk, Daredevil, Fantastic Four, Iron Man, Captain America, Sam Raimi, Bryan Singer
Duration: 3 minutes, 40 seconds
Date story recorded: April 2006
Date story went live: 24 January 2008