NEXT STORY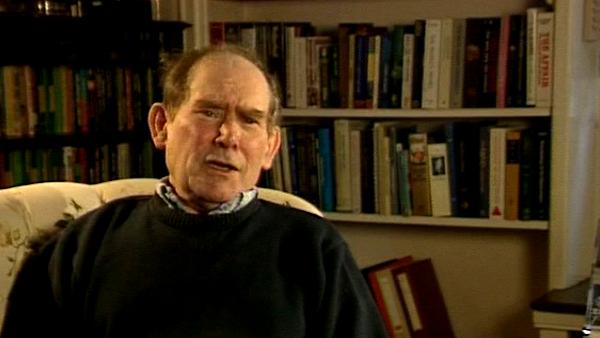 Cloning viruses to make them safer to work with
Testing possible safe strains on myself
1
...
17
18
19
20
21
...
24
Part of my work became to really try to get the science moving. And one of the things I did was I created a safe strain. And I had a very amusing time with this, because I in fact did propose what our scientists could do is create safe strains. And in fact if we put the DNA into this, they couldn't get out. And so I first conceived of the safe strain; my argument was I would train a bacterium to live in heavy water. And that once I got it accustomed to live in heavy water it wouldn't be able to live anywhere in the present universe, because heavy water was only invented in 1935 in Chicago. Invented, I mean, obtained in pure form. So I've actually grown... I actually grew bacteria for thousands of generations in heavy water. They adapted and there's quite an interesting story in evolution there still to... to come to its fruition, but alas they could always grow back in light water. But I would have thought that would be the absolutely safe strain, that it would only know this kind of particular chemical universe. It would have made the work very expensive and people like the Norwegian Electricity Company very rich because everybody would have had to use heavy water. But I did create a safe strain. It taught me a lot of lessons about this whole technology, because it's extremely difficult to do genetic engineering. Everybody thinks you just kind of toss it off and everything works. It's extremely difficult to attain an end on this. Most of the time it's like the television set, it doesn't work. If you tamper with a television set you tend to break it most of the time rather than do something new. And so we finally did create a thing and I had to test it. And of course I tested it on myself. Now, as you know, human experimentation is strictly forbidden, and so I said I'm testing it on an upper primate, I didn't say it was a human being. In fact I don't count myself necessarily as one. I was then told I should consult people before I did this experiment. They couldn't stop me, but I should consult people. So I sort of met odd people in the street and said what do you think about this? However, I did the experiment; it was a very good experiment. I put... I showed my safe... my strain was 10 million times safer.
South African Sydney Brenner (1927-2019) was awarded the Nobel Prize in Physiology or Medicine in 2002. His joint discovery of messenger RNA, and, in more recent years, his development of gene cloning, sequencing and manipulation techniques along with his work for the Human Genome Project have led to his standing as a pioneer in the field of genetics and molecular biology.
Title: Testing possible safe strains on myself
Listeners: Lewis Wolpert
Lewis Wolpert is Professor of Biology as Applied to Medicine in the Department of Anatomy and Developmental Biology of University College, London. His research interests are in the mechanisms involved in the development of the embryo. He was originally trained as a civil engineer in South Africa but changed to research in cell biology at King's College, London in 1955. He was made a Fellow of the Royal Society in 1980 and awarded the CBE in 1990. He was made a Fellow of the Royal Society of Literature in 1999. He has presented science on both radio and TV and for five years was Chairman of the Committee for the Public Understanding of Science.
Listen to
Lewis Wolpert
at Web of Stories
Tags: Norwegian Electricity Company
Duration: 2 minutes, 56 seconds
Date story recorded: April-May 1994
Date story went live: 29 September 2010