NEXT STORY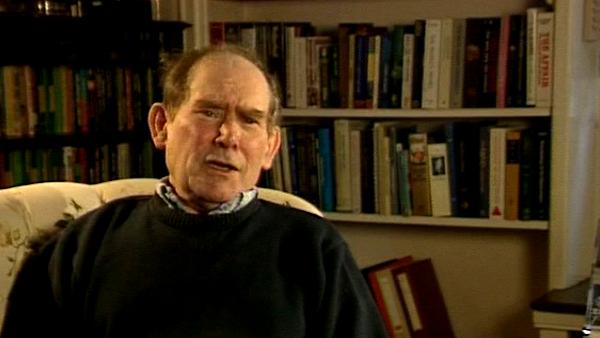 'Have A Look' biology
Digital and analogue analogies
1
...
18
19
20
21
22
...
24
It is a remarkable fact, but I actually owned a copy of Turing's paper, which in fact I wrote and got from him when it pub… was published in The Royal Society; because I'd known of course Turing's name from computing, via the von Neumann. But I hadn't realised that he'd done this, so when I saw this… I actually have the copy somewhere. And it's quite interesting because later when he died his mother found my address amongst his papers and she actually wrote to me saying that she'd found this and so on and it is in fact through that and my connection with King's College that I had… I'd got involved in the Turing Trust, because Turing was a fellow of King's and in fact it was through this organisation that we got his life written by Andrew Hodges – the book called The Enigma – and which was very, very successful, and I think a very interesting book. And I had of course looked… I… when I say read, I mean looked at Turing's paper, which of course I wasn't too au fait with the equations they did, but they… they were diffusion equations as well. And of course it's a very interesting paper because it's… if you could think of Turing as being the archdeacon of digital computation, which he was in his Turing machine and in everything that followed in computers; this stuff was exactly the opposite. It is essentially an analogue computation, and that's an analogue computation with thresholds, and the sort of thing that cells are, and objects, are very good at doing. And of course it is interesting that… that this separation between digital and analogue thinking really swept through biological sciences and I think a lot of the analogue computation was just forgotten, because of the… I think for a lot of things like — computers were digital, genetic programs were like computer programs — it's all this kind of thinking by metaphor or thinking by similarity, by analogy, that I think confused a lot of people. Because biological systems have worked out extremely good ways of doing analogue computation within their scales, and do it exceedingly well. And in fact, they find it very difficult to count things beyond one. They can count the difference between one and nought. And so… I think that Turing then had shown that there's an engineering solution, if I can put it that way. And it is interesting that Lewis himself had been trained as an engineer and so this I think did come naturally to him, that this is a… this is the kind of machinery that doesn't count but has thresholds and has flows and… and organises things in that way.
South African Sydney Brenner (1927-2019) was awarded the Nobel Prize in Physiology or Medicine in 2002. His joint discovery of messenger RNA, and, in more recent years, his development of gene cloning, sequencing and manipulation techniques along with his work for the Human Genome Project have led to his standing as a pioneer in the field of genetics and molecular biology.
Title: Digital and analogue analogies
Listeners: Lewis Wolpert
Lewis Wolpert is Professor of Biology as Applied to Medicine in the Department of Anatomy and Developmental Biology of University College, London. His research interests are in the mechanisms involved in the development of the embryo. He was originally trained as a civil engineer in South Africa but changed to research in cell biology at King's College, London in 1955. He was made a Fellow of the Royal Society in 1980 and awarded the CBE in 1990. He was made a Fellow of the Royal Society of Literature in 1999. He has presented science on both radio and TV and for five years was Chairman of the Committee for the Public Understanding of Science.
Listen to
Lewis Wolpert
at Web of Stories
Tags: King's College London, Alan Turing, Andrew Hodges
Duration: 3 minutes, 51 seconds
Date story recorded: April-May 1994
Date story went live: 29 September 2010