NEXT STORY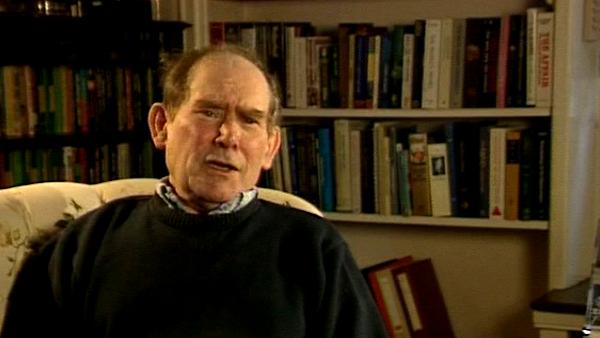 The Nadi reaction
1
2
3
4
5
6
...
24
[Q] Your… your passion for words and language, I mean, which is the first time you've mentioned it; did you read novels and poetry?
Oh yes; I didn't read much poetry but I've always been a great devourer of books, indiscriminate of course, so I read everything that I can lay my hands on. I did not much enjoy the sort of formal text that we were given at school; in fact I have an… I have a total dislike for Sir Walter Scott, after being forced to read Quentin Durward for my matric – as far as I'm concerned, I never want to read another thing. However… but it is just the... the whole idea of... of this communication has been… has been an interest of mine for a very long time.
[Q] The wordplay, Sydney?
The wordplay I think is part of… is part of the way one... one learns to think. I think wordplay is just alternative interpretations of the same thing, and I think that that's a lot of… a lot of science involves that: of… of taking… looking at the thing on the surface and see that there… there's more than one way of looking at it and see there's more than one way of extracting something from it.
[Q] But did you get pleasure from this wordplay even when rather young or do you think it was something that came to you later?
Yes, well I think the... the idea of punning is… there's probably a gene for it in our family because my grandson is exactly like this. At quite a young age he is already inventing words and doing things like this. I mean, inventing words is a good one; for example, he has… he has an invention of a... a Jewish-Japanese restaurant, which is called Sosumi – an American Jewish-Japanese restaurant. So this is… the… the wordplay is part of the way one manipulates one's thinking, and so I think that's also part of it.
South African Sydney Brenner (1927-2019) was awarded the Nobel Prize in Physiology or Medicine in 2002. His joint discovery of messenger RNA, and, in more recent years, his development of gene cloning, sequencing and manipulation techniques along with his work for the Human Genome Project have led to his standing as a pioneer in the field of genetics and molecular biology.
Title: Language and wordplay
Listeners: Lewis Wolpert
Lewis Wolpert is Professor of Biology as Applied to Medicine in the Department of Anatomy and Developmental Biology of University College, London. His research interests are in the mechanisms involved in the development of the embryo. He was originally trained as a civil engineer in South Africa but changed to research in cell biology at King's College, London in 1955. He was made a Fellow of the Royal Society in 1980 and awarded the CBE in 1990. He was made a Fellow of the Royal Society of Literature in 1999. He has presented science on both radio and TV and for five years was Chairman of the Committee for the Public Understanding of Science.
Listen to
Lewis Wolpert
at Web of Stories
Tags: Walter Scott, Quentin Durward
Duration: 2 minutes, 24 seconds
Date story recorded: April-May 1994
Date story went live: 24 January 2008