NEXT STORY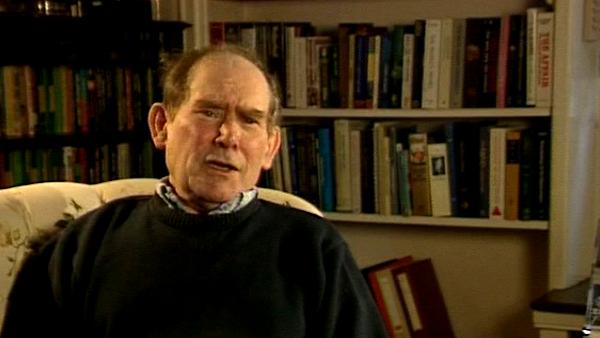 Hunting for future-proof sciences
1
...
3
4
5
6
7
...
24
So during the course of my sort of dual career as a kind of reluctant medical student, together with being a practising scientist and I should say, also later on, a lecturer in physiology and a tutor all at the same time, I have come to the conclusion I've got to go abroad, and after the war, of course, many people did. I had already turned down this offer of Le Gros Clark but thought, this is really what I wanted to do, and in… I think it was 1948, Waddington came out to South Africa and... myself and a very good friend called George Clayton, and… were asked to look after him. We became responsible for this, Waddington was a great physiologist… embryologist and part of the school, and remained after that a friend for life. And he told me about Cambridge and all the interesting things that were going on in biochemistry in Cambridge. He had just moved to Edinburgh to start this – he said of course I could come to Edinburgh but if I wanted to go to Cambridge, that's where biochemistry was going. So I thought: well, I'll apply to Cambridge. So I applied; I wrote to Chibnall, who was then the professor, and I never got a reply. In the meantime, the principal of my university, Humphrey Raikes, a very great man, I had told him that I really wanted to go to England; I wanted to do this. So he said to me, 'Well there is a man at Oxford who is interested in these things; he's called Hinshelwood', because it turned out that Humphrey Raikes was a physical chemist at Oxford and knew about Hinshelwood, and his college was Exeter College and Hinshelwood was a… he... he was Dr Lee's Professor of Physical Chemistry there, and Hinshelwood had written a book called The Chemical Kinetics of the Bacterial Cell.
South African Sydney Brenner (1927-2019) was awarded the Nobel Prize in Physiology or Medicine in 2002. His joint discovery of messenger RNA, and, in more recent years, his development of gene cloning, sequencing and manipulation techniques along with his work for the Human Genome Project have led to his standing as a pioneer in the field of genetics and molecular biology.
Title: Cambridge or Oxford?
Listeners: Lewis Wolpert
Lewis Wolpert is Professor of Biology as Applied to Medicine in the Department of Anatomy and Developmental Biology of University College, London. His research interests are in the mechanisms involved in the development of the embryo. He was originally trained as a civil engineer in South Africa but changed to research in cell biology at King's College, London in 1955. He was made a Fellow of the Royal Society in 1980 and awarded the CBE in 1990. He was made a Fellow of the Royal Society of Literature in 1999. He has presented science on both radio and TV and for five years was Chairman of the Committee for the Public Understanding of Science.
Listen to
Lewis Wolpert
at Web of Stories
Tags: UK, Cambridge University, Edinburgh University, Oxford University, Exeter College, Dr Lee's Professor of Physical Chemistry, The Chemical Kinetics of the Bacterial Cell, Wilfrid Le Gros Clark, Conrad Hal Waddington, Albert Chibnall, Humphrey Raikes, Cyril Hinshelwood
Duration: 2 minutes, 37 seconds
Date story recorded: April-May 1994
Date story went live: 24 January 2008