NEXT STORY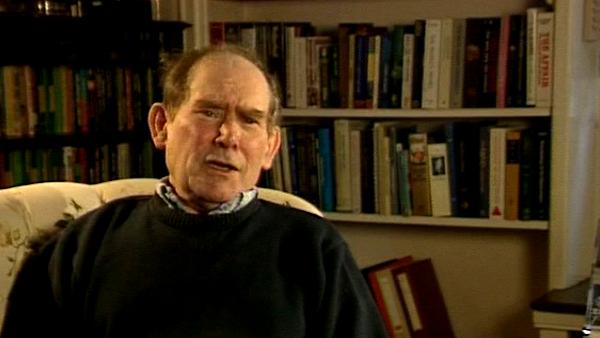 The first and second DNA structure papers
Crick, Watson and the first model of the double helix
1
...
4
5
6
7
8
...
24
We went to Cambridge, and we went by car. It was a small car. It was very cold I remember, and the car wasn't heated. No one had heaters in cars. And we must have arrived in Cambridge in the late morning at, say, 11, or this. We went into the Austin Wing of the Cavendish Laboratory; I went in with Jack and Leslie, and we went into the room that was lined with brick, and there on the side there, I can remember was this small… was this model made of all the plate and the plates for the bases, and the… this is the original model with everything was screwed together, and I could see the double helix there. And Francis was sitting there – it's the first time that I met him – and of course he couldn't stop talking. And he just went on and on and on and on, and it was very inspiring, you see. And they talked really about… more about the second paper. See, Jim stood there, and Jim, I had the feeling was get… he was there at his desk in that room, which I came to occupy later when I came to the Cavendish. And Jim was… Jim was saying… well, you know, just interspersing, and of course I got talking more to Jim later on. Francis had to go somewhere, but I spent the rest of the day with Jim. Now, the… what we talked about mostly was... not was... not the structure itself, but of the biological implications. Namely that which appeared in the second paper, which of course at that stage neither papers had appeared. This was prior. The paper appeared in May, so the paper was expected in a few weeks. The second paper appeared a little later than that.
South African Sydney Brenner (1927-2019) was awarded the Nobel Prize in Physiology or Medicine in 2002. His joint discovery of messenger RNA, and, in more recent years, his development of gene cloning, sequencing and manipulation techniques along with his work for the Human Genome Project have led to his standing as a pioneer in the field of genetics and molecular biology.
Title: Crick, Watson and the first model of the double helix
Listeners: Lewis Wolpert
Lewis Wolpert is Professor of Biology as Applied to Medicine in the Department of Anatomy and Developmental Biology of University College, London. His research interests are in the mechanisms involved in the development of the embryo. He was originally trained as a civil engineer in South Africa but changed to research in cell biology at King's College, London in 1955. He was made a Fellow of the Royal Society in 1980 and awarded the CBE in 1990. He was made a Fellow of the Royal Society of Literature in 1999. He has presented science on both radio and TV and for five years was Chairman of the Committee for the Public Understanding of Science.
Listen to
Lewis Wolpert
at Web of Stories
Tags: Cambridge University, Austin Wing, Cavendish Laboratory, Molecular structure of nucleic acids, A structure for deoxyribose nucleic acid, Jack D Dunitz, Leslie Orgel, Francis Crick, James Watson
Duration: 2 minutes, 21 seconds
Date story recorded: April-May 1994
Date story went live: 24 January 2008