NEXT STORY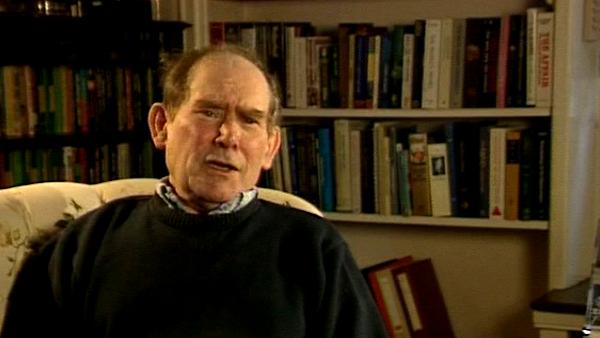 Enzymologists reject the model of DNA
Impressions of Watson and Crick
1
...
4
5
6
7
8
...
24
My impression of Jim Watson was of this rather eccentric, bright person who seemed to be… didn't pay as much attention to me as I would have liked, and walked very rapidly, with long strides – because we went for a walk. And someone who knew all the people. You see, you have to realise that Jim… Jack Dunitz was my first meeting with someone who knew Delbrück, you see. So it… it's interesting, that – to see people that when you meet people who knew other people for the first time, this is quite interesting. Jack knew Pauling, you see. And you see, now here's Franc… here's Watson, Watson knew… knew Luria; I knew Luria's work, I was doing Delbrück-Luria experiments. To actually meet the people that had experiments named after them. See, in those days you know, we used to contemplate what made people famous. And we realised that in chemistry you had to have a piece of apparatus named after you. So today we remember Büchner by his funnel, Erlenmeyer by his flask and Liebig by his condenser, you see. In mathematics you have to have a theorem, or better still a lemma. And of course in biology, we didn't know what you had to have named after you. And so, you know, we… we contemplated what it was; you have a theory, of course. Later we found out what it… you had a system. An in vitro system. So there was the Nirenberg system. And this idea of having an… a system to do something was exemplified when much later I defined the rabbit as a system into which you put an antigen and from which you get an antibody, you see. So that was the idea. So that has gone now, I'm glad to say.
[Q] What about Francis?
Well, Francis, I... I just have not such… I mean, I was very impressed by his... the way he spoke. And by his enthusiasm. And of course you see, Francis had been a cell biologist, and he had studied viscosity with magnets. And that was... that interested me also, because I'd looked at those papers, you see, as well. Later on of course, so I just heard a bit about this, but no, I mean, Francis I had heard about before I met him as a crystallographer from Jack Dunitz. And as the forerunner of the interpreter of the helical diffraction. You know, because they talked about Bessel functions; I didn't know anything about a Bessel function. It sounded like an occasion where people I knew might get married, and at a Bethel… Bessel function. But I didn't know what they were. But they kept on talking about these things. So I'd heard about Francis. But of course I knew what I wanted to do, I knew the subject I wanted to be in.
[Q] Did Francis take any interest in you?
Not so much at that stage. I don't think he did. But of course when we all got together in Wood's Hole, then that is where everything… that is where the interaction became strong, because it became clear that, you know, the ideas one was talking about were the same, you see, and of course I have a long correspondence with Francis that goes back to after I returned to South Africa when we were doing all of this thing.
South African Sydney Brenner (1927-2019) was awarded the Nobel Prize in Physiology or Medicine in 2002. His joint discovery of messenger RNA, and, in more recent years, his development of gene cloning, sequencing and manipulation techniques along with his work for the Human Genome Project have led to his standing as a pioneer in the field of genetics and molecular biology.
Title: Impressions of Watson and Crick
Listeners: Lewis Wolpert
Lewis Wolpert is Professor of Biology as Applied to Medicine in the Department of Anatomy and Developmental Biology of University College, London. His research interests are in the mechanisms involved in the development of the embryo. He was originally trained as a civil engineer in South Africa but changed to research in cell biology at King's College, London in 1955. He was made a Fellow of the Royal Society in 1980 and awarded the CBE in 1990. He was made a Fellow of the Royal Society of Literature in 1999. He has presented science on both radio and TV and for five years was Chairman of the Committee for the Public Understanding of Science.
Listen to
Lewis Wolpert
at Web of Stories
Tags: Woods Hole Oceanographic Institute, South Africa, Francis Crick, James Watson, Jack D Dunitz, Max Delbrück, Linus Pauling, Salvador Luria, Ernst Büchner, Emil Erlenmeyer, Justus von Liebig
Duration: 3 minutes, 55 seconds
Date story recorded: April-May 1994
Date story went live: 24 January 2008