NEXT STORY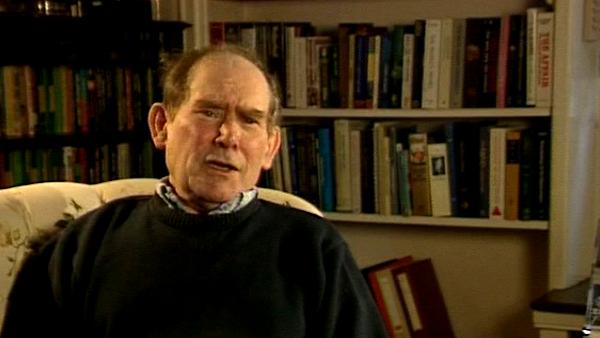 The annual phage meeting: Leó Szilárd
1
...
6
7
8
9
10
...
24
Now, to go back to the… the coding... question, Gamow used to… lived in Washington, where he was a professor at the George Washington University. And I met Gamow at Wood's Hole that summer of 1954. I went up to Wood's Hole to… to visit Jim and Francis – they were there that summer – and Gamow was there as well, and Gamow was giving lectures on proteins. Gamow had a wonderful language. For example, his pronunciation you had to follow… oxytocin, he was a Russian so it was called ochitotzine, you see. Ah, vasopretzine, you see. So once… you had to get used to all of this, and Gamow had a completely… he got mixed up between cytosine and cysteine, and used the two terms interchangeably. So you had to really know the field to follow him. It used to be said that there were always sort of gentleman in… with crew cut hair and sober suits that came in to the back to the… Gamow's audience, who would be from the CIA or the National Security Council, who thought that they could crack this genetic code. And of course cracking the code became the thing. It is interesting to ask, to see the transformation of the use of the language, you see, because at the time the code was thought to be what we call the genome. Whereas what is the code is something that – and Francis has commented on this and... and – you know, we imagine it was something like the Morse Code, was a table. It said, you know; S dot, dot, dot, O dash, dash, dash, you see. And was a table of transformations and that we'd always thought of it in that way, and the famous table now of the genetic code is of course now done. Although you'll find that most people will still talk about the complete apparatus of the genome as the genetic code for an organism, and that is wrong. It's the table of transformation.
South African Sydney Brenner (1927-2019) was awarded the Nobel Prize in Physiology or Medicine in 2002. His joint discovery of messenger RNA, and, in more recent years, his development of gene cloning, sequencing and manipulation techniques along with his work for the Human Genome Project have led to his standing as a pioneer in the field of genetics and molecular biology.
Title: Gamow: cracking the code
Listeners: Lewis Wolpert
Lewis Wolpert is Professor of Biology as Applied to Medicine in the Department of Anatomy and Developmental Biology of University College, London. His research interests are in the mechanisms involved in the development of the embryo. He was originally trained as a civil engineer in South Africa but changed to research in cell biology at King's College, London in 1955. He was made a Fellow of the Royal Society in 1980 and awarded the CBE in 1990. He was made a Fellow of the Royal Society of Literature in 1999. He has presented science on both radio and TV and for five years was Chairman of the Committee for the Public Understanding of Science.
Listen to
Lewis Wolpert
at Web of Stories
Tags: Washington DC, George Washington University, Woods Hole Research Center, CIA, National Security Council, George Gamow, James Watson, Francis Crick
Duration: 2 minutes, 31 seconds
Date story recorded: April-May 1994
Date story went live: 24 January 2008