NEXT STORY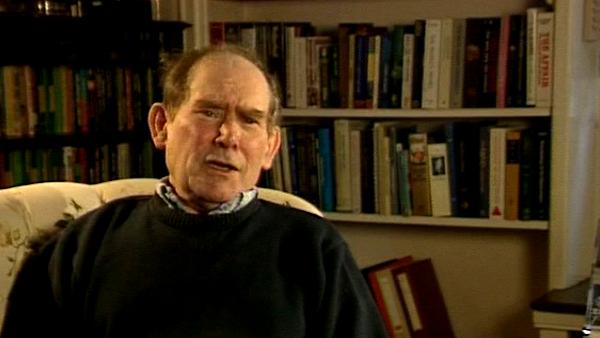 Coast-to-coast road trip with Jim Watson
Caught in Hurricane Carol with James Watson
1
...
6
7
8
9
10
...
24
I gave Seymour's paper at the Cold Spring Harbor meeting. And it had been arranged then that I was going to California to go to the Virus Lab and visit there, and it had been arranged then by Jim that I would go through… I would drive back with him across California and go to Pasadena. I wanted to spend at least a week in Pasadena and meet Max Delbrück and so on. But I decided to… to go with Jim. And we started at Cold Spring Harbor, and I have to tell you that Jim had just learnt to drive and he had a Chevy convertible, and I had spoken to people that he'd driven across the States from the West Coast, who had had quite a hair-raising trip with Jim, and so I… I wasn't doing this, but he seemed to be all right. So we drove, we left Cold Spring Harbor and we then stayed at Yale with Jim's uncle, who was a professor of physics and then we went to… to Cambridge Massachusetts… to Boston, where we going to spend some time. Now, unknown to both of us, the famous hurricane Carolina… Caroline [sic] struck this coast, we had no radio, and so we drove into Boston to an appalling storm, and we went to a house where we were going stay, which wasn't furnished, but it was the house that Ephrussi was going to occupy, and Jim had arranged this. And so we went into this house in Boston, which was in fact covered… which had no furniture, so we slept on the floor in sleeping bags. And there was a terrible storm that night, and I got up to find half the place was under water. And I thought… well, you know, I had never been in Boston before and it looked very bad. And I got up in the morning, there was a tremendous knocking on the door and these were the plumbers who were trying to let... to come in and Jim went on sleeping as they traipsed through the room and eventually we got up and we drove for breakfast. The entire town was deserted. There was water everywhere. I'd never seen rain like this. We seemed to be the only people driving around. What we were doing is driving around the middle of the hurricane. And I said to Jim, I said, 'Isn't this a bad storm?' He said, 'No we get them this way here'. We then drove past a church, and I noticed the entire steeple had been fallen into the ground. And I said, 'Well, you know, have you seen that?' It's only later that we discovered, when we went to the lab, that… that we found everybody huddled around the radio, that we were driving as the eye of the storm passed over Cambridge. Well, following that, Jim and I went up to… to New Hampshire, again, you know, with the aftermath of the hurricane, and we stayed with Ernst Mayr for a couple of days. That was because Jim had interests in one of Ernst Mayr's daughters. And I met a very interesting man, a writer on evolution and so on, and of course Jim by now had received this offer to come to Harvard as a professor, and he was going back to Pasadena and would go to Harvard, and this is why we spent a lot of time there. I also met Paul Doty on that occasion, whom I met much later as well. And Jim and I went up to the Gordon Conference for half a day, and then we… then we went to drive west.
South African Sydney Brenner (1927-2019) was awarded the Nobel Prize in Physiology or Medicine in 2002. His joint discovery of messenger RNA, and, in more recent years, his development of gene cloning, sequencing and manipulation techniques along with his work for the Human Genome Project have led to his standing as a pioneer in the field of genetics and molecular biology.
Title: Caught in Hurricane Carol with James Watson
Listeners: Lewis Wolpert
Lewis Wolpert is Professor of Biology as Applied to Medicine in the Department of Anatomy and Developmental Biology of University College, London. His research interests are in the mechanisms involved in the development of the embryo. He was originally trained as a civil engineer in South Africa but changed to research in cell biology at King's College, London in 1955. He was made a Fellow of the Royal Society in 1980 and awarded the CBE in 1990. He was made a Fellow of the Royal Society of Literature in 1999. He has presented science on both radio and TV and for five years was Chairman of the Committee for the Public Understanding of Science.
Listen to
Lewis Wolpert
at Web of Stories
Tags: Cold Spring Harbor Laboratory, California, the Virus Laboratory, Pasadena, USA, Yale University, Cambridge, Massachusetts, Boston, Hurricane Carol, New Hampshire, Harvard University, Gordon Research Conference, Seymour Benzer, Max Delbrück, James Watson, Boris Ephrussi, Ernst Mayr, Paul Doty
Duration: 4 minutes, 44 seconds
Date story recorded: April-May 1994
Date story went live: 24 January 2008