NEXT STORY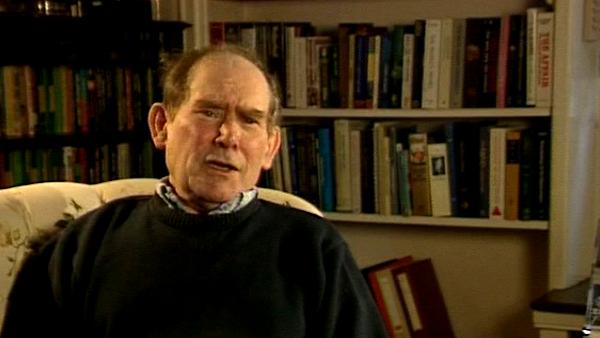 Preparing to die in the desert
Coast-to-coast road trip with Jim Watson
1
...
6
7
8
9
10
...
24
The first day we drove through New York State and we came to Albany. There was a tremendous storm and at the outskirts of Albany, Jim said, 'You drive'. Now, I'd never driven on the right hand side of the road. This was an absolute storm – lightning. I don't know how… where I was going. Never driven in America before. Somehow I drove through Albany without killing us, and finally we got to the other side and stayed the night in a motel and… with the two of us, and then the next day we drove to Chicago where I stayed a few days with Jim at his family home and met his family there. And then from there we went on to Urbana, where we stopped there for an afternoon – that's where I met Luria, Ed Lennox and all the people who were at Urbana – and then from Urbana we drove out west, stopping at various places. I can remember stopping in Colorado Springs after a day in which we'd been stopped by a traffic policeman in a small town in Kansas where they had a speed limit… a ridiculous speed limit like 25ft an hour. And I noticed this policeman tailing us and I said… I was driving, and I said to Jim, 'What do… what do we do?' So he says, 'Just drive', you know, so I drove extremely carefully, and just as we came to the border, the Colorado/Kansas border, this policeman stopped us. And he said, 'You went through a traffic light. Get out of the car... go through a traffic light.' I said, 'Well, I don't… I don't think I did, but if I did I'm terribly sorry', you see. However, it was very clear that he was trying to get us – this was a Friday, I remember – and Jim kept on saying, 'Don't argue with him, because he'll put us in jail and there'll be no judge till Monday, and we'll have to spend the weekend in jail'. So he asked to see my driver's licence. I showed him a South African driver's licence. He says, 'I see, you're out of state'. So I said, 'Yes'. So he then said to Jim, 'Are you the car owner?' 'Yes.' And then he went to look, and in California at that time the licence was wrapped around the steering wheel. And of course he read it and he said, 'Are you Mr Dewey?' Because Jim's middle name is Dewey – JD Watson. He was called after… by… his father had a great admiration for the philosopher Dewey at Chicago, and was called James Dewey Watson. He didn't like the name, and of course he didn't like the policeman calling him Mr Dewey. And I could see Jim getting very, very het up, and so I kept on saying to him, 'Don't talk back to him or we'll be in jail for the weekend'. However, we went to Colorado. I drove; I think a remarkable thing that… that made such an impression on me. I mean, having travelled a lot in South Africa, deserts and mountains, I mean, this was just fabulous, the scenery in the Rockies, and the desert scenery there…. thereafter was so fascinating.
South African Sydney Brenner (1927-2019) was awarded the Nobel Prize in Physiology or Medicine in 2002. His joint discovery of messenger RNA, and, in more recent years, his development of gene cloning, sequencing and manipulation techniques along with his work for the Human Genome Project have led to his standing as a pioneer in the field of genetics and molecular biology.
Title: Coast-to-coast road trip with Jim Watson
Listeners: Lewis Wolpert
Lewis Wolpert is Professor of Biology as Applied to Medicine in the Department of Anatomy and Developmental Biology of University College, London. His research interests are in the mechanisms involved in the development of the embryo. He was originally trained as a civil engineer in South Africa but changed to research in cell biology at King's College, London in 1955. He was made a Fellow of the Royal Society in 1980 and awarded the CBE in 1990. He was made a Fellow of the Royal Society of Literature in 1999. He has presented science on both radio and TV and for five years was Chairman of the Committee for the Public Understanding of Science.
Listen to
Lewis Wolpert
at Web of Stories
Tags: New York State, Albany, USA, Chicago, Urbana, Colorado Springs, Kansas, Colorado, California, University of Chicago, South Africa, James Watson, Salvador Luria, Edward Lennox, John Dewey
Duration: 3 minutes, 58 seconds
Date story recorded: April-May 1994
Date story went live: 24 January 2008