NEXT STORY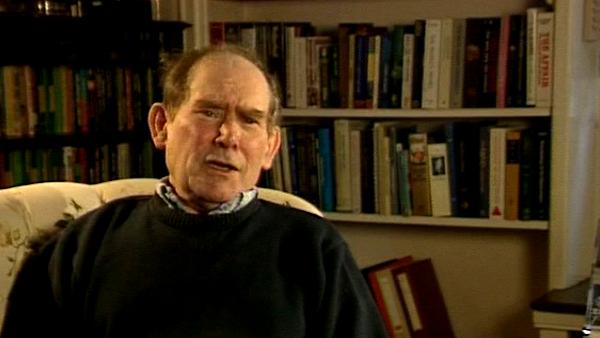 Genetics of the rII and the gene protein problem
The first official use of Molecular Biology
1
...
8
9
10
11
12
...
24
Now, at about this time, we had space problems in the Cavendish. A new professor had been appointed – that was Nevill Mott. It was very clear that with the crystallography developing then, because that's Max and John Kendrew had started to solve myoglobin and haemoglobin, that this unit – which had been called up to that point the unit for the Macro… the Molecular Structure of... of Biological Systems – that that couldn't last in the Cavendish, and that it would have to find some future home. And many things were explored. For example, at one time we explored the following possibility that the physicists – that is, the crystallography – would stay in the Cavendish, and that Francis and myself and our group, we would go to the genetics department, and Francis effectively applied for the Chair of Genetics here and was turned down. Francis Crick was not thought to know anything about genetics. Seymour tells a nice story about this as well when Fred Sanger came to Purdue University where Seymour was there to give his insulin lecture. Seymour came up to him and said, 'Oh you're… you come from Cambridge'. He said, 'Do you know Francis Crick?' To which Fred replied, 'Crick? Oh yes, he's the fellow who's rather keen on genes.' But Francis was not thought to know anything about them even if he was keen on them to warrant being appointed a professor here. So we then explored possibilities of going into chemistry. That wouldn't work. Then the MRC said they'd make a building for us. We then tried to get a central site here because in those days in Cambridge you wanted to be in the centre, and it was a very active thing. People were in and out of each other's laboratories, the pubs around in this area were… you could always go in there and meet people from the Molteno Institute to the biochemistry department, so it was… it was like a… it was a real intellectual centre, but we could not actually survive here without getting some expansion. And so we tried to find a central site. I think one was found but it was discovered the land didn't belong to them and the university were not very interested in keeping us. And the MRC's first idea was they'll put all the MRC groups together and that will have taken us with certain people we didn't want to have and we told them no. What we think they ought to do is to do something in molecular biology. By this time, I think it was 1958 or 1959, we had changed the name of our unit – we called it Molecular Biology. From? From the Molecular Structure of Biological Systems, and so that is the kind of first official use of that word although it had been used before as history has shown – Astbury... we used it some time ago – but in fact this science of molecular biology with its curious combination of chemistry, crystallography and genetics, you know, had been created at that point. And that's about the time the Journal of Molecular Biology got created and of course we were going to get this laboratory.
South African Sydney Brenner (1927-2019) was awarded the Nobel Prize in Physiology or Medicine in 2002. His joint discovery of messenger RNA, and, in more recent years, his development of gene cloning, sequencing and manipulation techniques along with his work for the Human Genome Project have led to his standing as a pioneer in the field of genetics and molecular biology.
Title: The first official use of Molecular Biology
Listeners: Lewis Wolpert
Lewis Wolpert is Professor of Biology as Applied to Medicine in the Department of Anatomy and Developmental Biology of University College, London. His research interests are in the mechanisms involved in the development of the embryo. He was originally trained as a civil engineer in South Africa but changed to research in cell biology at King's College, London in 1955. He was made a Fellow of the Royal Society in 1980 and awarded the CBE in 1990. He was made a Fellow of the Royal Society of Literature in 1999. He has presented science on both radio and TV and for five years was Chairman of the Committee for the Public Understanding of Science.
Listen to
Lewis Wolpert
at Web of Stories
Tags: Cavendish Laboratory, MRC Unit for the Study of the Molecular Structure of Biological Systems, Laboratory of Biological Systems, Chair of Genetics, Cambridge University, Purdue University, MRC, Molteno Institute, The Astbury Centre for Structural Molecular Biology, Journal of Molecular Biology, MRC Laboratory of Molecular Biology, Nevill Mott, Max Perutz, John Kendrew, Francis Crick, Seymour Benzer
Duration: 4 minutes, 6 seconds
Date story recorded: April-May 1994
Date story went live: 24 January 2008