NEXT STORY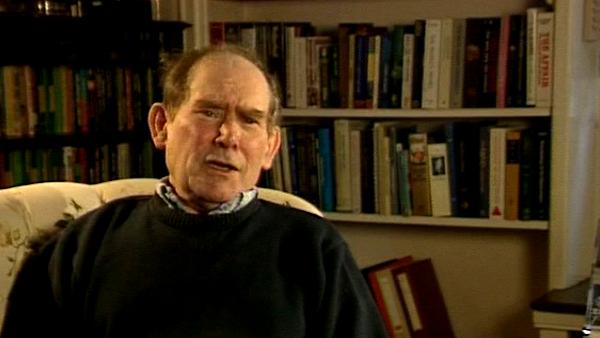 Experimenting in California
Volkin-Astrachan RNA and Phage
1
...
8
9
10
11
12
...
24
I had got to meet François Jacob in the late '50s when I went to Paris to give a lecture on bacteriophage and… and that is when our friendship really dates from. And he had come over to Cambridge – this would be April 1960 – and a famous meeting took place in my rooms in King's College, which have been recounted in the autobiographies of both Francis and of François, and of course it was remarkable in the sense that nobody was in possession of all the… of all the pieces of the information, so that the people in Paris didn't know about Volkin-Astrachan DNA; they didn't know about phage. We knew about that but could not see the significance until it was actually all laid out on that day, and what I remember very clearly is as we were discussing the so called PaJaMo Experiment, which is what happens when you inject this, it suddenly occurred to me this was Volkin-Astrachan DNA and…
[Q] DNA? RNA?
Volkin-Astrachan RNA. That this… that the Volkin-Astrachan RNA must be what I called at that... at that meeting the Messenger RNA. Now the meeting was quite interesting, because there was one moment during the course of this which was absolutely uncanny. You got the feeling that only Francis and I knew what we… each other were talking about, and that everybody else just couldn't follow what we were talking… now of course I got very excited and said, 'Volkin-Astrachan, information intermediate; it's short-lived… short-lived intermediate. It must be; look at the way it turns over in phage effect.' And nobody knew what we were talking about because of this jump. But at that moment this became clear, and it's quite interesting, you know, there are actually people that I know were there, but they've forgotten that they were there. It left absolutely no memory that they actually were present.
[Q] Who was present in the room? Can you just give us a little more background…
Present at the room. Well, present at the room at the time, there had been a Society of [sic] General Microbiology meeting in London and at the room there certainly was Alan Garen who forgot he was present, Ole Maaløe was there, François Jacob, Francis and myself. Those are the ones that I remember, but Alan Garen forgot he was there. I mean, I certainly know he was there because of that, and this discussion revolved around that.
South African Sydney Brenner (1927-2019) was awarded the Nobel Prize in Physiology or Medicine in 2002. His joint discovery of messenger RNA, and, in more recent years, his development of gene cloning, sequencing and manipulation techniques along with his work for the Human Genome Project have led to his standing as a pioneer in the field of genetics and molecular biology.
Title: Volkin-Astrachan RNA and Phage
Listeners: Lewis Wolpert
Lewis Wolpert is Professor of Biology as Applied to Medicine in the Department of Anatomy and Developmental Biology of University College, London. His research interests are in the mechanisms involved in the development of the embryo. He was originally trained as a civil engineer in South Africa but changed to research in cell biology at King's College, London in 1955. He was made a Fellow of the Royal Society in 1980 and awarded the CBE in 1990. He was made a Fellow of the Royal Society of Literature in 1999. He has presented science on both radio and TV and for five years was Chairman of the Committee for the Public Understanding of Science.
Listen to
Lewis Wolpert
at Web of Stories
Tags: 1950s, Paris, Cambridge, 1960, King's College, Volkin-Astrachan, Society for General Microbiology, London, François Jacob, Francis Crick, Elliot Volkin, Lazarus Astrachan, Alan Garen, Ole Maaløe
Duration: 3 minutes, 20 seconds
Date story recorded: April-May 1994
Date story went live: 24 January 2008