NEXT STORY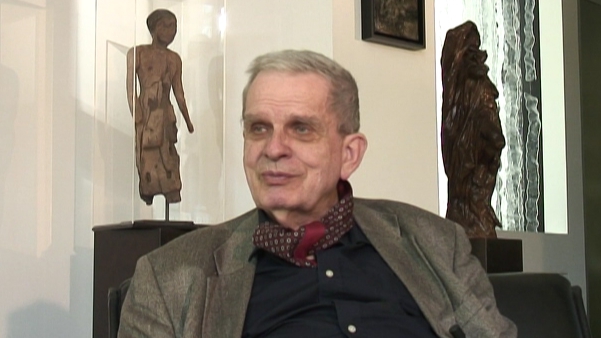 My father, Antanas Venclova
1
2
3
4
5
...
9
If I am to talk about my life, I should probably begin by saying that my life is not typical for a Lithuanian. The majority of Lithuanians are from the countryside – although nowadays less so – but people of my generation are almost all from there. I am a city person from a family of intelligentsia on both sides. I was born in a city and have lived all my life in a city. Practically speaking, I have nothing to do with the countryside. Nor do I have anything to do with dialects – I'm not a Žemaitis [a Lowlander] or a Dzūkas [a southeast Lithuanian] or an Aukštaitis [a Highlander]. I could most probably be called a native of Vilnius. I was born in 1937 on September 11th – now an infamous day, since on that day there was an attack in New York on skyscrapers which were destroyed. I, as it happens, was preparing to celebrate my birthday then, but because of that event that year, I, of course, did not celebrate it, since the event was a tragedy.
Jeigu pasakoti apie savo gyvenimą, turbūt reikia pradėti nuo to, kad jis lietuviui netipiškas. Dauguma lietuvių kilę, šiais laikais jau mažiau, bet mano kartos jau beveik visi kilę iš kaimo. Aš esu miestietis, iš inteligentų šeimos iš abiejų pusių. Gimęs mieste, visą gyvenimą mieste gyvenęs. Su kaimu praktiškai nieko bendro neturiu. Neturiu nieko bendro ir su tarmemis – nesu nei žemaitis nei dzūkas, nei aukštaitis. Turbūt vilnietis. Gimiau 1937 metais, rugsėjo 11-ąją – tokia šiais laikais garsi diena, kadangi tą dieną įvyko pasikėsinimas prieš Niujorko dangoraižius, kurie buvo sugriauti. Aš, taip sakant, kaip tik tada rengiausi švęsti gimimo dieną, bet dėl to įvykio jos tais metais, žinoma, nešvenčiau, nes tai buvo tragedija.
Born in 1937, Tomas Venclova is a Lithuanian scholar, poet, author and translator of literature. He was educated at Vilnius University and later at Tartu University. As an active participant in the dissident movement he was deprived of Soviet citizenship in 1977 and had to emigrate. Between 1977 and 1980 he lectured at University of California, Berkeley, where he became friends with the Polish poet Czesław Miłosz, who was a professor of Slavic Languages and Literature at the school, as well as the Russian poet Joseph Brodsky. He is currently a full professor at Yale University.
Title: A native of Vilnius
Listeners: Andrzej Wolski
Film director and documentary maker, Andrzej Wolski has made around 40 films since 1982 for French television, the BBC, TVP and other TV networks. He specializes in portraits and in historical films. Films that he has directed or written the screenplay for include Kultura, which he co-directed with Agnieszka Holland, and KOR which presents the history of the Worker's Defence Committee as told by its members. Andrzej Wolski has received many awards for his work, including the UNESCO Grand Prix at the Festival du Film d'Art.
Tags: Vilnius, 11-11-1927
Duration: 1 minute, 11 seconds
Date story recorded: May/June 2011
Date story went live: 20 March 2012