NEXT STORY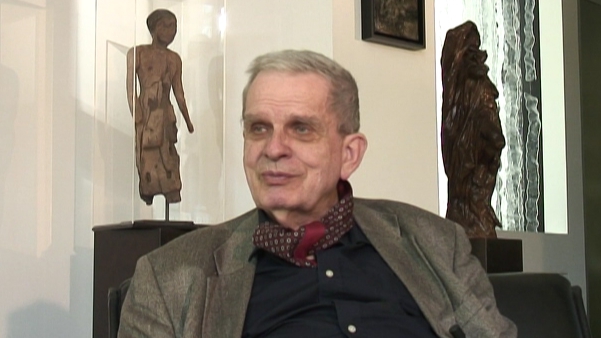 Rescuing prohibited art from capture
1
2
3
4
5
...
9
I got to know a poet called Gennadiy Aygi who was an avant-garde writer and is also well known, by the way, in France. His books have been published in France, his books of verse, in at least several editions. He was part of the unofficial intelligentsia who couldn't really be officially published but who did publish their work in samizdat form, almost underground, whether this was the underground in music, literature or painting. Private, unofficial shows were put on by avant-garde artists whom the authorities sometimes even attacked and confiscated their paintings. As it happens it was Marina [Kedrova], my wife at the time, who was very much occupied with that, the organisation of those shows and so on.
Susipažinau su tokiu poetu Genadijum Aigi, kuris buvo avantgardistas ir taip pat plačiai žinomas be ko kito Prancūzijoje. Jo knygos yra išėjusios Prancūzijoje bent keliais leidimais jo eilėraščių knygos. Vis tai buvo neoficialioji inteligentija, kurie beveik negalėjo viešai reikštis, bet reiškėsi savilaidoje, tokiame pusiau pogrindyje, ar tai būtų muzikinis pogrindis, ar literatūrinis, ar tapybinis. Buvo daromos neviešos, neoficialios avantgardinių dailininkų parodos, kurias valdžia kartais net užpuldavo, paveikslus konfiskuodavo. Kaip tik mano tuometinė žmona Marina labai daug tų užsiiminėjo, tų parodų organizavimu ir panašiai.
Born in 1937, Tomas Venclova is a Lithuanian scholar, poet, author and translator of literature. He was educated at Vilnius University and later at Tartu University. As an active participant in the dissident movement he was deprived of Soviet citizenship in 1977 and had to emigrate. Between 1977 and 1980 he lectured at University of California, Berkeley, where he became friends with the Polish poet Czesław Miłosz, who was a professor of Slavic Languages and Literature at the school, as well as the Russian poet Joseph Brodsky. He is currently a full professor at Yale University.
Title: Gennadiy Aygi
Listeners: Andrzej Wolski
Film director and documentary maker, Andrzej Wolski has made around 40 films since 1982 for French television, the BBC, TVP and other TV networks. He specializes in portraits and in historical films. Films that he has directed or written the screenplay for include Kultura, which he co-directed with Agnieszka Holland, and KOR which presents the history of the Worker's Defence Committee as told by its members. Andrzej Wolski has received many awards for his work, including the UNESCO Grand Prix at the Festival du Film d'Art.
Tags: France, Gennadiy Aygi, Marina Kedrova
Duration: 52 seconds
Date story recorded: May/June 2011
Date story went live: 20 March 2012