NEXT STORY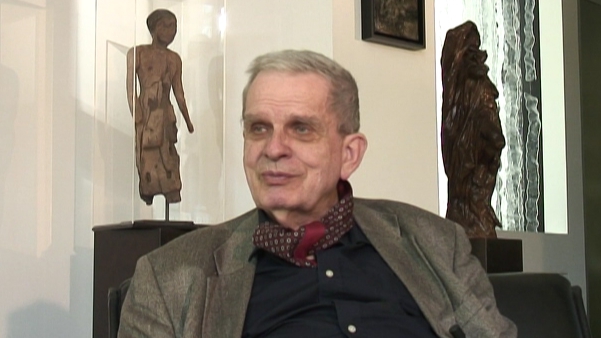 Natalya Trauberg
1
2
3
4
5
...
9
His stepson was Vladimir Muravyov – well his surname happens to be the same as of the well known Russian suppressor of uprisings, the Governor General of Vilnius. The Governor General of Vilnius, [Mikhail] Muravyov, put down the uprising of 1863 so cruelly, horrifically that they called him, and he is still called, Muravyov the Hangman in history text books. His relatives were Decembrists, who rose up against the Tsarist government and were hung. Well, when the Tsar appointed him Governor General of Vilnius he asked him, 'Aren't you one of those Muravyovs who participated in the uprising against our government?' And Muravyov replied, 'I'm not one of those Muravyovs who...' forgive me, 'I am not one of those Muravyovs who are hung, but one of those Muravyovs who hang others'. And so he was given the name of Muravyov the Hangman.
Jo posūnis buvo Vladimiras Muravjovas, nu yra, reiškia, jo pavardė sutampa su žinomo rusų malšintojo, Vilniaus generalgubernatoriaus pavarde. Vilniaus generalgubernatorius Muravjovas numalšino 1863 metų sukilimą ir numalšino taip žiauriai, kad jį pavadino ir nuo to... ligi šiol dar, taip sakant, jis tebevadinamas istorijos vadovėliuose – Muravjovas korikas. Mat, jo giminaičiai buvo dekabristai – sukilėliai prieš Caro valdžią, kurie buvo pakarti. Na ir kai Caras jį skyrė Vilniaus generalgubernatorium paklausė: Ar jūs ne iš tų pačių Muravjovų, kurie dalyvavo sukilime prieš mūsų valdžią? Į tai Muravjovas atsakė: Aš ne iš tų Muravjovų kurie, atleiskit, aš ne iš tų Muravjovų, kuriuos karia, o iš tų Muravjovų, kurie karia. Tai gi jį taip ir pavadino Muravjovu koriku.
Born in 1937, Tomas Venclova is a Lithuanian scholar, poet, author and translator of literature. He was educated at Vilnius University and later at Tartu University. As an active participant in the dissident movement he was deprived of Soviet citizenship in 1977 and had to emigrate. Between 1977 and 1980 he lectured at University of California, Berkeley, where he became friends with the Polish poet Czesław Miłosz, who was a professor of Slavic Languages and Literature at the school, as well as the Russian poet Joseph Brodsky. He is currently a full professor at Yale University.
Title: Muravyov, the Hangman
Listeners: Andrzej Wolski
Film director and documentary maker, Andrzej Wolski has made around 40 films since 1982 for French television, the BBC, TVP and other TV networks. He specializes in portraits and in historical films. Films that he has directed or written the screenplay for include Kultura, which he co-directed with Agnieszka Holland, and KOR which presents the history of the Worker's Defence Committee as told by its members. Andrzej Wolski has received many awards for his work, including the UNESCO Grand Prix at the Festival du Film d'Art.
Tags: Vladimir Muravyov, Mikhail Muravyov
Duration: 1 minute, 13 seconds
Date story recorded: May/June 2011
Date story went live: 20 March 2012