NEXT STORY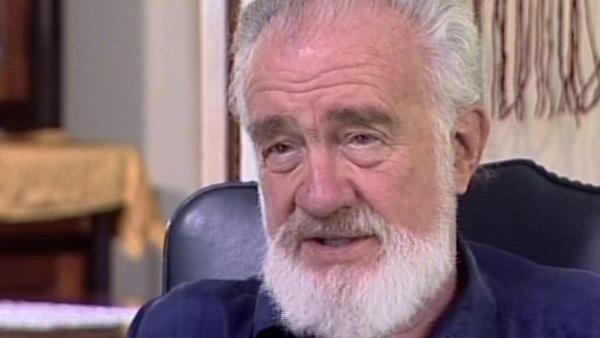 Getting into the University of Iowa to study playwriting
Flash Hamilton the timpani player
1
2
3
4
5
...
10
Later in high school I… I think I fell in love with a guy. There was nothing sexual about this, but this was the guy who played timpani in the band and orchestra. He was known as Flash Hamilton. His name was Leo and he… he was very tall and slender, rather like my father; he… his mother —and this was very unusual then — was divorced, and she ran a country club out a way from… from town someplace. So, he had a little Model A Ford that he drove. No… no one else in school had a… high school kids did not have cars then. He had a car. And he came in, and he played the… he played the timpani and… and was very good at it, and of course… to me at least it was an immediately attractive instrument. He also was student conductor and… and all the musicians admired him and… and really liked him. There… there was nothing sexual about this I must say, he was going with twin girls: one was beautiful and the other slept with him. But… but every… but a lot of us really admired him, really… really thought: Jesus, Flash, he's… he's it! And so I started taking timpani lessons and I knew that he was a year or two ahead of me and pretty soon he'd graduate and I could move into that role and so that's what I had done and I took… I took some conducting lessons and I… when I got to college — after the Navy — I also did some choral conducting and the chances are, when I… okay, I knew that I couldn't be a timpanist, there were only about ten symphonies in the country at that time and all of them had a fairly young man as a timpanist except the Philadelphia orchestra that had an old, old man named Oscar Schwar and he had a pupil so… you know, there was just no hope there, you couldn't do it.
Now if… if you had the orchestras you've got today, I mean there's room for timpanists everywhere, but these guys are so good, they are so much better than I would have ever have got to be and, you know, they… they are marvelous, they are really… well, you know, the level of musicianship in… in this country now is… is incredible. So I knew I had to get out of... out of that when I… I had to get out of music. I had been too dilatory, if I had gone to work very hard when I was maybe 15 I maybe could have caught up; you know usually you should start when you're six or eight, but I hadn't. I… I had had… I had a schoolteacher once and I… I had asked him — a college teacher — and I asked him, 'What should I do with my life?' And he had said, and I was… I felt fairly insulted, and he knew I would; that he says: 'You don't seem to me to have an attachment to any one thing, you seem sort of a dilettante; you go toward the thing that you're in love with right then'. He was exactly right I must say, although it needn't… it needn't have quite the insulting edge to it that I took.
American poet WD Snodgrass, entered the world of poetry with a bang winning several awards, including the Pulitzer Prize, for his first collection of poetry, Heart's Needle. A backlash followed his controversial fifth anthology "The Fuehrer Bunker", but in recent years these poems have been reassessed and their importance recognised.
Title: Flash Hamilton the timpani player
Listeners: William B. Patrick
William B. Patrick is a writer and poet who lives in Troy, New York. Among his work are the poetry volumes "We Didn't Come Here for This" and "These Upraised Hands", the novel "Roxa: Voices of the Culver Family" and the plays "Rescue" and "Rachel's Dinner". His most recent work is the non-fiction book "Saving Troy", based on the year he spent following the Troy Fire Department.

Mr. Patrick has been Writer-in-Residence at the New York State Writers Institute and has taught at Old Dominion University, Onondaga Community College, and Salem State College, and workshops in Screenwriting and Playwriting at the Blue Ridge Writers Conference in Roanoke, Virginia. He has received grants from the Academy of American Poets, the National Endowment for the Arts, the Massachusetts Artists Foundation, and the Virginia Commission for the Arts.
Tags: The Philadelphia Orchestra, Oscar Schwar
Duration: 3 minutes, 38 seconds
Date story recorded: August 2004
Date story went live: 24 January 2008