NEXT STORY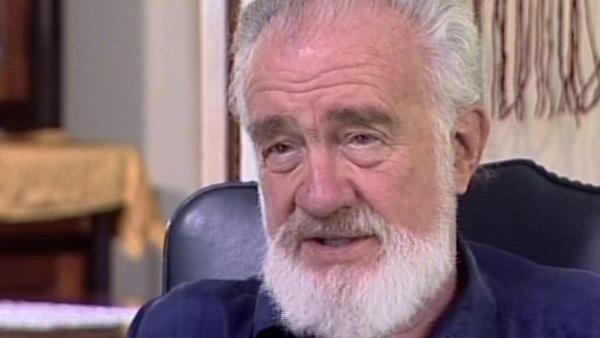 Being tutored by Randall Jarrell
Paul Engle's conversion to New Criticism
1
2
3
4
5
...
10
Well, the… the big New Critics weren't there but… they were often the disciples of those people. The… the big names were, you know, TS Eliot and E… Ezra Pound and they had… had started this whole modernist movement. In… in the wake of this a bunch… a bunch of southern people known as the fugitives… of whom probably the most important figure was John Crowe Ransom, a wonderful, lovely man and a very good, terrific poet and terrific critic also. But then others — there were other southerners — Cleanth Brooks and then Brooks and… and Robert Penn Warren wrote a book — series of books together — Understanding Poetry, Understanding Fiction, Understanding… two or three other things, I forget what… but, and these books were of great importance I think, they certainly were to me.
And now the thing is, what happened in a way is that with… with Paul Engle who was the head at the school, is that he had started out writing sort of wild… hyper-poetical stuff, and he was predicted to be the... the new great American poet. Well the New Critics really beat the bejesus out of him and for good reason; they were totally dishonest poems and he… he was, in many ways very, very dishonest. It made him a bad poet but a really great administrator. I mean… I mean, dishonesty was just… if there was a simple easy way to do it — straight forward — you ask the dean for this office, and a careful under-way to do it by maybe wrecking a couple pieces of furniture and… and knowing someone who can… you know, and… and you work out a deal this way, he would always go for it and he did the same thing in his poems. So he… he got beat up by these guys, the New… the New Critics, the result was he converted to New Criticism and like most converts he outdid the… the originals, you know, people who have become Catholics are so Catholic, I mean… the Pope isn't good enough for them… and as opposed to, you know, people who are in it from birth and so forth. So… so, anyway, but he did some… he did some wonderful teaching when he was there, he wasn't there all… all the time. Much of the time he was away recruiting young poets and he was absolutely brilliant at that. He brought in the most marvelous young poets and so it meant you were surrounded by this richness all the time; it… that was wonderful. When Lowell came, I… as I said, you know, I just couldn't believe my luck. And in no time at all I was writing just like Lowell.
American poet WD Snodgrass, entered the world of poetry with a bang winning several awards, including the Pulitzer Prize, for his first collection of poetry, Heart's Needle. A backlash followed his controversial fifth anthology "The Fuehrer Bunker", but in recent years these poems have been reassessed and their importance recognised.
Title: Paul Engle's conversion to New Criticism
Listeners: William B. Patrick
William B. Patrick is a writer and poet who lives in Troy, New York. Among his work are the poetry volumes "We Didn't Come Here for This" and "These Upraised Hands", the novel "Roxa: Voices of the Culver Family" and the plays "Rescue" and "Rachel's Dinner". His most recent work is the non-fiction book "Saving Troy", based on the year he spent following the Troy Fire Department.

Mr. Patrick has been Writer-in-Residence at the New York State Writers Institute and has taught at Old Dominion University, Onondaga Community College, and Salem State College, and workshops in Screenwriting and Playwriting at the Blue Ridge Writers Conference in Roanoke, Virginia. He has received grants from the Academy of American Poets, the National Endowment for the Arts, the Massachusetts Artists Foundation, and the Virginia Commission for the Arts.
Tags: The Fugitives, New Critics, New Criticism, Understanding Poetry, Understanding Fiction, TS Eliot, Ezra Pound, John Crowe Ransom, Cleanth Brooks, Robert Penn Warren, Paul Engle, Robert Lowell
Duration: 3 minutes, 30 seconds
Date story recorded: August 2004
Date story went live: 24 January 2008