NEXT STORY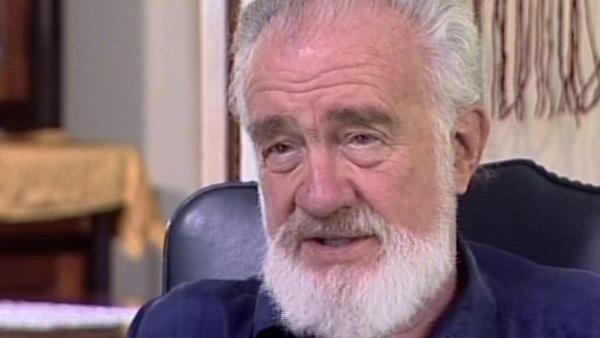 The influence of Hugues Cuénod
My treatment in experimental psychology
1
2
3
4
5
...
10
First I had this criticism from Jarrell; at the same time my life was falling apart, you know, my wife — my first wife — and I were the worst things that could ever have happened to each other, and we had a baby, which just quadrupled the awfulness of this. I… I started going to a… I… I had been frozen for two years, I couldn't do… I couldn't write at all — pardon me — I had a writer's block. And, so I went… I went to psycho and… and… as an outpatient, and I was part of an experimental program there where the doctor was not in the room with you, he was actually behind a one-way mirror but I didn't know that and you didn't know that at first, this was an experiment they were trying. And to my surprise, I mean I expected the doctor was going to say: 'For heaven sakes get… get out of writing poetry; I mean make a decent living.' I mean I thought they would say the kind of thing that… that my father was still saying to me, although he paid the bills, and a lot of them. A lot of them were also paid by my wife and… and like a lot of people, a lot of the veterans, I was being supported by my wife. But she was getting pretty weary of that and I wasn't showing much signs of ever going to earn a living and… and we got farther and farther apart from each other and, you know finally I took to sleeping on… on a couch, not always sure that I would wake up the next morning. I mean the… the hatred had grown very, very strong and… and although… I mean a great part of the trouble between us is that we were both very passive. I was afraid she might get very active and… and I'd become not merely passive but… but yea, level.
Anyway I… I started going to the doctor and we… we had sessions and I… I would talk and talk and talk and talk and finally I realized what was happening here was that one of us sounded like a psychiatry text book and it wasn't him; that until, you know, until you got it in your own language it didn't count. As long as you… you're saying you've got a problem but you're using language that claims you can handle it, that claims you know what to do about it, you know, and so you know, you can perfectly well go in there and say, 'Oh doctor I have a castration anxiety', until, you know, you've said, 'They're gonna take it!', you know, it doesn't count. And so I decided, you know, I decided okay, that's… that's what's wrong with the poems. I'm… I'm always, you know, it's over- intellectualized, it's over… I'm… I'm too much acting in command of it, I have to know what it means when I start out and Frost had said, you know, it's… it's only a fake poem if you… if the idea's been thought of first and then is saved for the last line. And of course, that's what we were all doing, and especially I was doing.
American poet WD Snodgrass, entered the world of poetry with a bang winning several awards, including the Pulitzer Prize, for his first collection of poetry, Heart's Needle. A backlash followed his controversial fifth anthology "The Fuehrer Bunker", but in recent years these poems have been reassessed and their importance recognised.
Title: My treatment in experimental psychology
Listeners: William B. Patrick
William B. Patrick is a writer and poet who lives in Troy, New York. Among his work are the poetry volumes "We Didn't Come Here for This" and "These Upraised Hands", the novel "Roxa: Voices of the Culver Family" and the plays "Rescue" and "Rachel's Dinner". His most recent work is the non-fiction book "Saving Troy", based on the year he spent following the Troy Fire Department.

Mr. Patrick has been Writer-in-Residence at the New York State Writers Institute and has taught at Old Dominion University, Onondaga Community College, and Salem State College, and workshops in Screenwriting and Playwriting at the Blue Ridge Writers Conference in Roanoke, Virginia. He has received grants from the Academy of American Poets, the National Endowment for the Arts, the Massachusetts Artists Foundation, and the Virginia Commission for the Arts.
Tags: Randall Jarrell, Robert Frost
Duration: 4 minutes, 4 seconds
Date story recorded: August 2004
Date story went live: 24 January 2008