NEXT STORY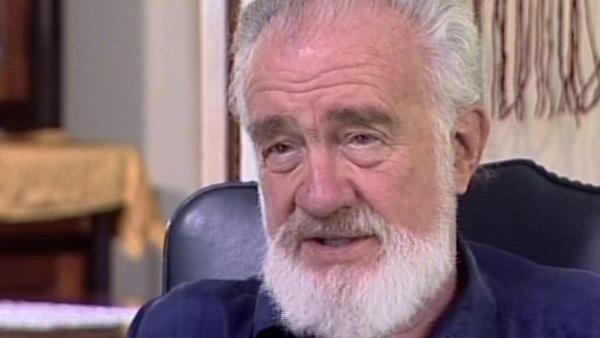 I failed as a conscientious objector so became a brig guard
Training to kill with bare hands
1
2
3
4
5
...
10
Okay, I… I got drafted, when… I was put in the Navy, I… I wasn't 4F but there's a sort of… some kind of limit that's put on you if… if you wear… wear glasses if you… yeah. That meant that probably I would not be in direct combat. The Navy… well, the Navy at least had, you know, they are awful stupid, but at least they had sense enough to know that I… that I wasn't a frontline warrior, and they said… I… they sent me to yeoman school.
A yeoman is a… is a kind of clerical worker. You know, I… I don't fight with a rifle, I fight with a typewriter. They sent me first to yeoman school at Bainbridge, Maryland, and then when I came from there I was sent… shipped out to the west coast — oh goodness, I can't think of the name of the camp — but it was a place where you… where you were trained for overseas duty. It was a former racetrack as a matter of fact, and we lived in what had been the stables. At first when they… when they took… took this over for the war, they gave it to the Army. Well, the Army wouldn't have it, there… there was too much… there was too much manure around, so the Navy gave it... or the Army gave it up and the Navy took it over; and we were being readied for… to go over to the… to the Asiatic front.
I must say something happened to me that…that was of tremendous importance to me there. One morning a man took 50 of us out and gave us a lesson in how if you get caught out without any weapons, you can blind a man with your bare hands and then go on to kill him. This was a lesson for 50 people. It really shook me because first of all I knew… well at least I felt if I… if I get into a situation where it comes to it, I will do that. Maybe I overrate myself and… and my aggressive powers, but at least I thought you know, yes, I would do that. So I have no business to go there.
American poet WD Snodgrass, entered the world of poetry with a bang winning several awards, including the Pulitzer Prize, for his first collection of poetry, Heart's Needle. A backlash followed his controversial fifth anthology "The Fuehrer Bunker", but in recent years these poems have been reassessed and their importance recognised.
Title: Training to kill with bare hands
Listeners: William B. Patrick
William B. Patrick is a writer and poet who lives in Troy, New York. Among his work are the poetry volumes "We Didn't Come Here for This" and "These Upraised Hands", the novel "Roxa: Voices of the Culver Family" and the plays "Rescue" and "Rachel's Dinner". His most recent work is the non-fiction book "Saving Troy", based on the year he spent following the Troy Fire Department.

Mr. Patrick has been Writer-in-Residence at the New York State Writers Institute and has taught at Old Dominion University, Onondaga Community College, and Salem State College, and workshops in Screenwriting and Playwriting at the Blue Ridge Writers Conference in Roanoke, Virginia. He has received grants from the Academy of American Poets, the National Endowment for the Arts, the Massachusetts Artists Foundation, and the Virginia Commission for the Arts.
Tags: United States Navy, Bainbridge, Maryland, United States Army
Duration: 2 minutes, 32 seconds
Date story recorded: August 2004
Date story went live: 24 January 2008