NEXT STORY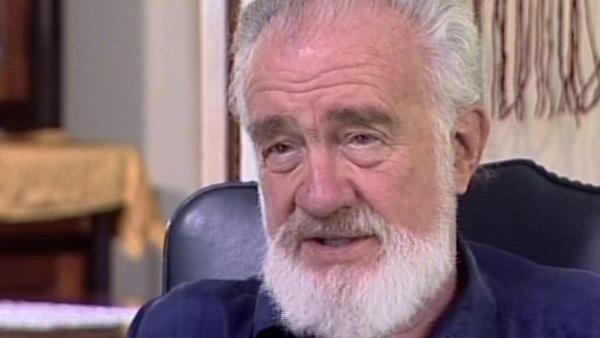 'Professors aren't supposed to have any private life'
Translating my experiences into poetry
1
2
3
4
5
...
10
When I finally got to a desk, that's what I was doing, I was sending people to duty on other ships or on other islands where they were fighting and... and things of that sort. But this… I've recovered there one day the scene where the guy was giving us a lesson in how… how to kill a man with your bare hands after blinding him, and I really broke up. I went… I went just to pieces. I… I just went all to hell, and I… I did become a conscientious objector after that, you know, when we then got into the Korean War and so forth. I became a Quaker for a while, but… I found that most Quaker groups, not the ones there at Iowa, they… it was full of people that I truly admired who had done very brave things, who had… who had gone to jail as conscientious objectors, who… who, you know, went into poor… into poor sections and really… really helped people out. But when I got to Cornell later, they talked about God, and oh hell, I don't want to go and listen to people talk… talk about God, and… and so I dropped out… out of the… the Quaker thing.
But recovering that scene… and the other thing of course was then being separated from my daughter, and the… where they were telling me you ought to write poems about the loss of myth in our time and the… the role of society in our poetry and all those big abstract things. No, what I cared about was… was not being allowed to see my daughter and… and I wasn't being allowed to see her. Every excuse that was possible was being used to… to keep her away from me, and… and I just couldn't… couldn't bear that, and so that's… that's what I started writing about, and… and also then I wrote a poem about the voice of that man giving the hand to hand combat instructor… instruction, but combining it. I… I tried again and again to write about that. I would go off and get it up into some kind of disguise like Odysseus blinding the Cyclops or something like that, and that, you know, I finally decided to hell with this, let him say just what he said! You know, boy, it was hard to beat, and… but I balanced that against somebody else that I had discovered just at the same time and that was the great Jewish philosopher, Baruch Spinoza.
American poet WD Snodgrass, entered the world of poetry with a bang winning several awards, including the Pulitzer Prize, for his first collection of poetry, Heart's Needle. A backlash followed his controversial fifth anthology "The Fuehrer Bunker", but in recent years these poems have been reassessed and their importance recognised.
Title: Translating my experiences into poetry
Listeners: William B. Patrick
William B. Patrick is a writer and poet who lives in Troy, New York. Among his work are the poetry volumes "We Didn't Come Here for This" and "These Upraised Hands", the novel "Roxa: Voices of the Culver Family" and the plays "Rescue" and "Rachel's Dinner". His most recent work is the non-fiction book "Saving Troy", based on the year he spent following the Troy Fire Department.

Mr. Patrick has been Writer-in-Residence at the New York State Writers Institute and has taught at Old Dominion University, Onondaga Community College, and Salem State College, and workshops in Screenwriting and Playwriting at the Blue Ridge Writers Conference in Roanoke, Virginia. He has received grants from the Academy of American Poets, the National Endowment for the Arts, the Massachusetts Artists Foundation, and the Virginia Commission for the Arts.
Tags: Korean War, Cornell University, Odysseus, Cyclops, Baruch Spinoza
Duration: 3 minutes, 3 seconds
Date story recorded: August 2004
Date story went live: 24 January 2008