NEXT STORY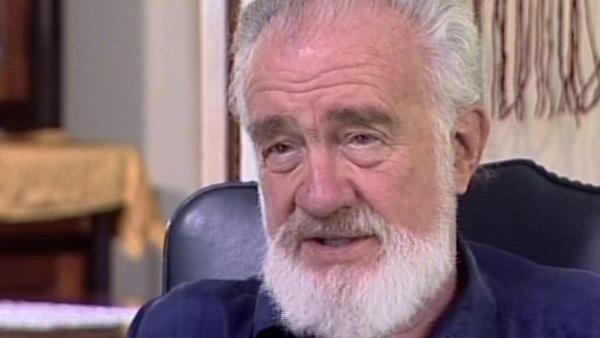 Repercussions of winning the Pulitzer Prize
'Professors aren't supposed to have any private life'
1
2
3
4
5
...
10
And so what I'd do is I… I composed a poem where you get two lines from the… from Spinoza, two lines from the combat instructor, two lines from Spinoza, two lines… back and forth, and I must say that's… that's one of the poems from that first book that I… I still feel, you know, I still like and that people mention to me most often, and then the poems about… about my daughter. And those… I went on writing those for about, it must be two and a half… yeah, it is two and a half years because there are 10 poems and one… there's one for each season of that. And everybody thought that was awful, to do that. You weren't supposed to write about things of that sort, about your private life, and so you keep your private life private; whereas you know, poets always wrote up till TS Eliot's time, people… that's what you wrote about, what you… what you were really concerned about, what you cared about, and I thought you know, some… I was very much moved by Mahler's Kindertotenlieder — Songs for the Death of Children —, and I thought well, you know, we don't lose our kids through… through early disease the way they… everybody did then. We lose them through divorce. And… so, I decided to write poems about that and I had great trouble publishing those poems or… or getting them any notice.
I remember once I was at the… I went to the University of Rochester for a poetry conference and I was going to read a paper about how I wrote one of those poems and… and what things that had happened to me and how that related to what I put in the poem, and they said, 'Oh you mustn't, you… you mustn't read that, you know, you just can't…' besides which I was a professor and professors aren't supposed to have any private life. And so, maybe… in a sense they aren't supposed to have any life. You know, you are supposed to live as a pure spirit or something of that sort. And… well anyway, but those were the poems I think which first got me notice, the ones about my daughter, and Louis Untermeyer liked them very much and… and he gave me the Pulitzer Prize for them. It cost him his job as judge of the… of the Pulitzer Prizes.
American poet WD Snodgrass, entered the world of poetry with a bang winning several awards, including the Pulitzer Prize, for his first collection of poetry, Heart's Needle. A backlash followed his controversial fifth anthology "The Fuehrer Bunker", but in recent years these poems have been reassessed and their importance recognised.
Title: 'Professors aren't supposed to have any private life'
Listeners: William B. Patrick
William B. Patrick is a writer and poet who lives in Troy, New York. Among his work are the poetry volumes "We Didn't Come Here for This" and "These Upraised Hands", the novel "Roxa: Voices of the Culver Family" and the plays "Rescue" and "Rachel's Dinner". His most recent work is the non-fiction book "Saving Troy", based on the year he spent following the Troy Fire Department.

Mr. Patrick has been Writer-in-Residence at the New York State Writers Institute and has taught at Old Dominion University, Onondaga Community College, and Salem State College, and workshops in Screenwriting and Playwriting at the Blue Ridge Writers Conference in Roanoke, Virginia. He has received grants from the Academy of American Poets, the National Endowment for the Arts, the Massachusetts Artists Foundation, and the Virginia Commission for the Arts.
Tags: Kindertotenlieder, Songs for the Death of Children, University of Rochester, Pulitzer Prize, Baruch Spinoza, TS Eliot, Gustav Mahler, Louis Untermeyer
Duration: 2 minutes, 47 seconds
Date story recorded: August 2004
Date story went live: 24 January 2008