NEXT STORY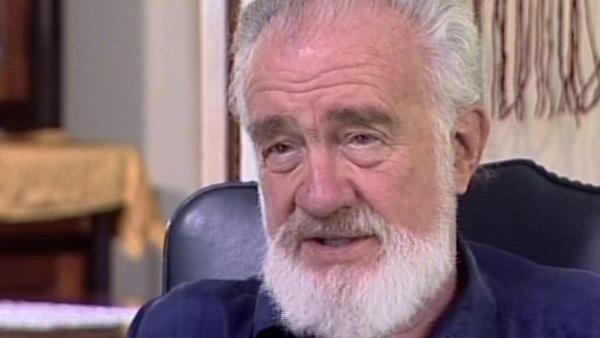 My mother transforms our home into a fortress
The mismatch of my parent's families
1
2
3
4
5
...
10
When he went to the little super-Christian college there, that was right across the street from where... where I later grew up — Geneva College — the older boys and particularly the really tough guys — immigrants' children who came to play football — they would haze the freshmen and they had to wear a... a beanie and do things like that. He refused, he utterly refused and got beat to a pulp and went into the hospital for some time and then he went out to the Middle West and met my mother in college out there and they got married, or... or they planned to get married. I think they were apart for a year after he came back to Beaver Falls but then she did come back and they got married. Well she was always sort of looked down on because she was from the Middle West, she came from just the same kind of family he did. His becoming a... an accountant was sort of a scandal. These... these were in Scotch-Irish families and you must either become a minister or a physician. He became an accountant; this was a disgrace, but he married a girl from the Midwest. Her father was a... was a minister; his father had been a minister. But they were from the Middle West where supposedly Indians were still running around scalping people instead of... instead of running around and getting killed. And... and so she was always looked down on there, rather, and I think that affected her feelings about a lot of things. You know she had a... she had had a superb education, quite better than his. I think she took something like eight or nine years of Latin and at least six or seven years of Greek and then later she taught... she taught a school and so she'd been fairly independent; now suddenly she was in this position of being dependent on this rather upper middle class family, well established in the town there, and she always resented that; and I must say she kept resentments better than almost anyone I have ever met. I've learned a little of that from her, I'm afraid. But, once she hated somebody she hated them, you know, forever with a... with a... and... and she came finally to practically hate most of the outside world.
American poet WD Snodgrass, entered the world of poetry with a bang winning several awards, including the Pulitzer Prize, for his first collection of poetry, Heart's Needle. A backlash followed his controversial fifth anthology "The Fuehrer Bunker", but in recent years these poems have been reassessed and their importance recognised.
Title: The mismatch of my parent's families
Listeners: William B. Patrick
William B. Patrick is a writer and poet who lives in Troy, New York. Among his work are the poetry volumes "We Didn't Come Here for This" and "These Upraised Hands", the novel "Roxa: Voices of the Culver Family" and the plays "Rescue" and "Rachel's Dinner". His most recent work is the non-fiction book "Saving Troy", based on the year he spent following the Troy Fire Department.

Mr. Patrick has been Writer-in-Residence at the New York State Writers Institute and has taught at Old Dominion University, Onondaga Community College, and Salem State College, and workshops in Screenwriting and Playwriting at the Blue Ridge Writers Conference in Roanoke, Virginia. He has received grants from the Academy of American Poets, the National Endowment for the Arts, the Massachusetts Artists Foundation, and the Virginia Commission for the Arts.
Tags: Geneva College, Beaver Falls, Midwestern United States
Duration: 2 minutes, 37 seconds
Date story recorded: August 2004
Date story went live: 24 January 2008