NEXT STORY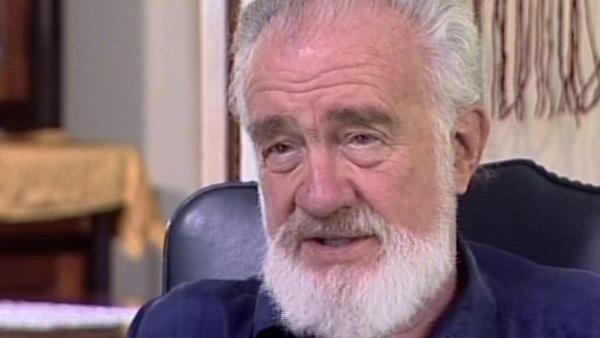 The cultural diversity in Detroit
Repercussions of winning the Pulitzer Prize
1
2
3
4
5
...
10
Schools that would not have taken me as a student the week before, now would want me to come and give poetry readings or to come and take a job. It completely changes the… the status of your life, and… and any change, I mean a change for the better is… is as… is almost as often damaging to a person as a change for the worse. They… they did a… a studies one year of how many people had died of heart attacks and cancer that year, and it was a shocking percentage who… who in the year before that had had some major change in their life, and it didn't seem to make any difference whether it was a change for the better or for the worse. You win… you win the lottery and your life goes to hell. Anyway, it's very hard… it's very hard to live… to live with that change. You wonder: Can I do that well again, can I… and it may well be that I am not particularly pointed toward winning, that there may be something in my background that says well — and it says this about a number of things, you know — you don't win wars by doing decent things, you win wars by doing indecent things. You don't want to lose wars. On the other hand, it's going to be kind of hard to… to live with the bombing of Dresden, it's going to be kind of hard to live with some of the things that your mates will tell you that they did and to whom and how… I don't know. I… I do know that up to that… now let's see.
My…that first therapy that I was in, the one in… in the mirror room, that seemed to get me going again and I was doing pretty well; I got a job first at Cornell, then Rochester, then I went to Detroit, and again I… now let's see. My first marriage had ended, I… I came together with my second wife there at Iowa while I was still there, and then we went to… to Detroit together, and… but by now I was getting… I… I got the Pulitzer while I was there. Louis had said — Louis Untermeyer — had said something to me earlier at a meeting which made… he… I think he said, 'I… I begin to see that you have some chance of maybe getting the Pulitzer Prize'. I didn't realize for some years afterwards that it was because he gave it to me, he and a southern newspaper editor, whose name I block on right now. They were the only two people on the board who really read poetry, and they… they voted for me and the other people… well, it cost Louis his job as judge. He was fired for that.
What it did was… I… I was by now getting offers to read poems and… and I would be paid for that. It meant that I was able to support my wife and her daughter — as she had a daughter by an earlier marriage — and also our baby then, when it came. I could… I could support these people, and in a way when we got married, I remember I had said I think I can supply about two thirds of… of what we will need. Now suddenly I could do it all. Okay, I'm going to give you my view of this. It's a very one-sided view and maybe no one else would see it the same. It seemed to me that she liked me as long as I was poor and unable to support a family, and weak. Now I was stronger and soon there was a lot of trouble between us, and the second marriage started going to hell, and I think that probably came pretty much directly as a result of… of winning the… the Pulitzer. When…. after Louis had said that to me about… 'I think you have a shot at it', one day the phone rang. I wasn't home, she got it, and it was the news… a local newspaper — a Detroit paper — and they said, 'Is this the Snodgrass who just won the Pulitzer Prize?' She said, 'I sure hope so'. But she… I think she ultimately… ultimately became quite unhappy about that. And it… well it also meant that other women were possible, not necessary; but I mean, that… that didn't have to follow, but it could have followed. It created a lot of difficulties; and so I went into… into deep analysis — into deep Freudian analysis — I was in there for… in for about eight years there with a quite marvelous doctor, I must say.
American poet WD Snodgrass, entered the world of poetry with a bang winning several awards, including the Pulitzer Prize, for his first collection of poetry, Heart's Needle. A backlash followed his controversial fifth anthology "The Fuehrer Bunker", but in recent years these poems have been reassessed and their importance recognised.
Title: Repercussions of winning the Pulitzer Prize
Listeners: William B. Patrick
William B. Patrick is a writer and poet who lives in Troy, New York. Among his work are the poetry volumes "We Didn't Come Here for This" and "These Upraised Hands", the novel "Roxa: Voices of the Culver Family" and the plays "Rescue" and "Rachel's Dinner". His most recent work is the non-fiction book "Saving Troy", based on the year he spent following the Troy Fire Department.

Mr. Patrick has been Writer-in-Residence at the New York State Writers Institute and has taught at Old Dominion University, Onondaga Community College, and Salem State College, and workshops in Screenwriting and Playwriting at the Blue Ridge Writers Conference in Roanoke, Virginia. He has received grants from the Academy of American Poets, the National Endowment for the Arts, the Massachusetts Artists Foundation, and the Virginia Commission for the Arts.
Tags: Pulitzer prize, Cornell University, University of Rochester, Wayne State University, Detroit, Louis Untermeyer
Duration: 6 minutes
Date story recorded: August 2004
Date story went live: 24 January 2008