NEXT STORY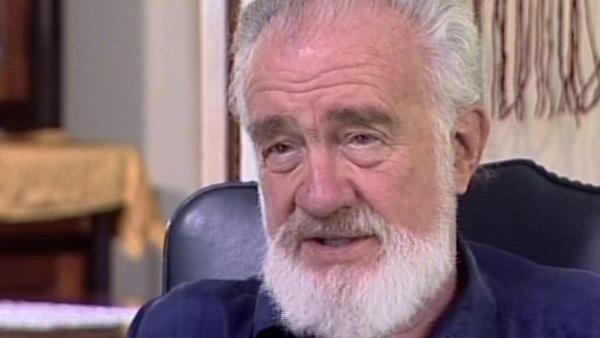 The differences between students at Wayne State and Cornell
The cultural diversity in Detroit
1
2
3
4
5
6
...
10
Well, Detroit is wonder… is a wonderful town in… in some ways. It's the most violent place I have ever lived. I mean compared to it, New York City is just serene. But the interesting thing about Detroit is that it's all marked up into sections ethnically. And for instance, Greek Town in Detroit is quite wonderful, and… and most of the… most of the intellectuals, like our… like people from the universities, and I was teaching at Wayne State, they hang out there at night. They go to the belly dance joints, which are wonderful, and the dancing is wonderful, the air of it is… is very free and open, and there is good Greek restaurants there, but there's lots of other sections also. I mean as a matter of fact there are also Arabic and Armenian belly dance joints.
There's… I mean, the Polish community is… has a whole separate city surrounded by Detroit, — Hamtramck — and they have a big academic society where… where they have all kinds of programs and wonderful things going on; and then there are… then there are Polish weddings which go on, and you know, they are always, you know, they're always a week long and… and a wedding is considered a failure unless it has broken up three of the… three other marriages in the course of that and there has been a fist fight or so. I… The… the Russians have… have a large bal… and terrific balalaika orchestra which give… which gave concerts all the time. The Bulgarians have night… night places and, well, I… I went to Bulgaria some years later, I was sent there and I… I met the head of what was then the Bulgarian folk community, and he said, 'You're from Detroit?' He said, 'Wonderful', he said… he said, 'When we want to learn Bulgarian folk dances, we send someone to Detroit'. He says, 'They've kept the dances better in Detroit than we have here in Bulgaria'.
And… and all of these… there was a… there was a Romanian community, I would get students… some of the most beautiful girls I have ever taught in my life, were Lithuanian girls who came from there, one of whom had… had lived for some years as a thief. I… I came to be… be having dates with her when my… when my second marriage broke up. She… she — let's see — she… she would be… they came in a… ahead of the Russian troops. They had a cart and were… and were withdrawing into Germany, and every morning her… her parents would send her out to steal from the farms, and she said, 'The… the farmers would look the other way, they knew how hard up we were and... but she never went anywhere that she didn't carry a little sack with her with a… with a sandwich. She was prepared.
There was one girl who — let's see — she was… she was there the morning that the German troops came in and took out all the Jewish students and then she had heard the gunfire and… and she wanted to write about this and she would never be able to. She… she never could. You had people who had, you know, terrible things like that in their… in their past.
American poet WD Snodgrass, entered the world of poetry with a bang winning several awards, including the Pulitzer Prize, for his first collection of poetry, Heart's Needle. A backlash followed his controversial fifth anthology "The Fuehrer Bunker", but in recent years these poems have been reassessed and their importance recognised.
Title: The cultural diversity in Detroit
Listeners: William B. Patrick
William B. Patrick is a writer and poet who lives in Troy, New York. Among his work are the poetry volumes "We Didn't Come Here for This" and "These Upraised Hands", the novel "Roxa: Voices of the Culver Family" and the plays "Rescue" and "Rachel's Dinner". His most recent work is the non-fiction book "Saving Troy", based on the year he spent following the Troy Fire Department.

Mr. Patrick has been Writer-in-Residence at the New York State Writers Institute and has taught at Old Dominion University, Onondaga Community College, and Salem State College, and workshops in Screenwriting and Playwriting at the Blue Ridge Writers Conference in Roanoke, Virginia. He has received grants from the Academy of American Poets, the National Endowment for the Arts, the Massachusetts Artists Foundation, and the Virginia Commission for the Arts.
Tags: Detroit, New York, Wayne State University, Hamtramck, Bulgaria, Germany
Duration: 3 minutes, 57 seconds
Date story recorded: August 2004
Date story went live: 24 January 2008