NEXT STORY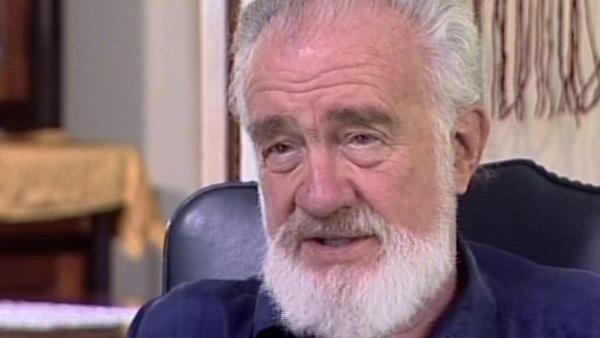 Moving to Detroit from Rochester
Getting fired from Cornell
1
2
3
4
5
6
...
10
I got fired after my first year there. I'd been promised five, but the… the… we got a new… a new chairman who said… first he gave a lecture to… to the department and I guess to the school generally about integrity, and then… then he went from there to a meeting of the department and said, 'Well now, we're gonna have to do some things that are gonna look sort of, you know, unscrupulous to people out…. who don't really realize the real situation, and the chiefest of these is fire Snodgrass!' No, he said, 'We've got to get rid of people who don't have a doctorate because they're getting harder and harder to get'. So I was called in at the end of the first year and told, 'We are going to let you stay another year but then we're dropping you' and I said, 'Jesus, are… is there dissatisfaction with my teaching?' And they said, 'Why, no, I don't think we really know much of anything about your teaching, we just feel that you don't… I mean, there's a general feeling that you don't fit in'. And I must say that I had shared that feeling. Yeah, I really didn't fit in there, yeah.
You know, at the… at the annual MLA meeting we went to Washington and met in the Library of Congress, — The Modern Languages Association — that's… that's the flesh market for… for professors, but they had a concert for us and the Budapest Quartet came and played. Ah, Alexander Schneider —Sascha Schneider — was the second violinist. The first violinist was a man whose name I have forgotten; I… about a year after that he had a stroke, but he… he was the most flawless violinist to ever… the whole concert was so magnificent. They… first they played a Debussy and then they played a… a Ravel quartet and I… I was just ready to go through the… when we came out of there, these… these guys, all they would talk about was how much… how much I reacted to the music. I mean you're supposed to be cool and above it all and you say, 'Oh yes, the Budapest, they are quite good, I've… yes, they're not bad at all'. And… and you know, just the fact that I was so… so knocked out by this; that… that wasn't proper. That was very improper to… to act as if you hadn't known all your life how wonderful this was and how wonderful that quartet was.
It… it was an amazing… 'cause I remember Sascha Schneider — whom I later met — we were… we… we came out of… down the steps and out of this official building, and he came running down the steps by himself and sort… he seemed to… to leap into an open convertible car with about five girls in it and drove off cheerily. I don't suppose he really leaped over the open doors into the backseat, but... anyway, I didn't fit in there and… and they… they were right to fire me, but… but it left me with you know, a wife and child and no way to make a living, and… and I had to go on teaching there for the rest of that year after I had already been rejected, and that was very difficult.
American poet WD Snodgrass, entered the world of poetry with a bang winning several awards, including the Pulitzer Prize, for his first collection of poetry, Heart's Needle. A backlash followed his controversial fifth anthology "The Fuehrer Bunker", but in recent years these poems have been reassessed and their importance recognised.
Title: Getting fired from Cornell
Listeners: William B. Patrick
William B. Patrick is a writer and poet who lives in Troy, New York. Among his work are the poetry volumes "We Didn't Come Here for This" and "These Upraised Hands", the novel "Roxa: Voices of the Culver Family" and the plays "Rescue" and "Rachel's Dinner". His most recent work is the non-fiction book "Saving Troy", based on the year he spent following the Troy Fire Department.

Mr. Patrick has been Writer-in-Residence at the New York State Writers Institute and has taught at Old Dominion University, Onondaga Community College, and Salem State College, and workshops in Screenwriting and Playwriting at the Blue Ridge Writers Conference in Roanoke, Virginia. He has received grants from the Academy of American Poets, the National Endowment for the Arts, the Massachusetts Artists Foundation, and the Virginia Commission for the Arts.
Tags: Cornell University, MLA, Modern Languages Association, Washington, Library of Congress, Budapest Quartet, Alexander Schneider, Claude Debussy, Maurice Ravel
Duration: 3 minutes, 58 seconds
Date story recorded: August 2004
Date story went live: 24 January 2008