NEXT STORY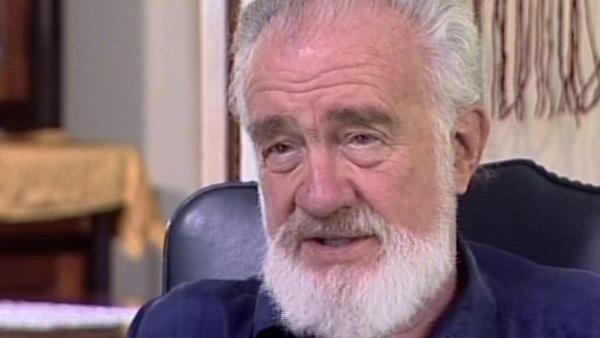 Beginning to work on The Fuehrer Bunker
Seeking new subjects for my poetry
1
2
3
4
5
6
...
10
After the first book came out, you know, a… a lot of the poems in that book are formal, and they are concerned with my own affairs very much. Well of course right away there was a… came to be a kind of competition between the Formalist poets and the Beat poets, and they... they were always giving me fits because I didn't… I wasn't trying to tell how to run the society. I mean I… I don't know how to run my own life much less to… how to run the United States. I'm pretty sure that the way we're doing it now is not really… is not it, but I turn much more to social problems in gen… and other problems in general, in the second book. There is more free verse there, and no doubt maybe I was trying to compete with Allen Ginsberg and… and the other Beat poets. I think those are the two main differences there.
Oh, also it is during that time that I was… that I was doing this that I… that I was with the psychoanalyst in… in Detroit, and he was a great help to me in doing the poems about paintings, that are in there. In the way… in the meantime I think I was kind of casting about for a subject matter, and so it… it seems to me the second book is less unified. Also, that second book contains a number of translations at the end, and there isn't anything like that in the first book; the first book is all my own poems. And I think perhaps I was looking for another subject like that, and I… I obviously, I mean there… there was loss of my daughter — I thought — and... and the loss of my sister, and I thought, you know, well for instance then when the second marriage broke up, I… I lost my son and my stepdaughter, but I thought I can't write about that anymore, I've already done that, and I'm looking for something new and different to do, and I… I think the second book involves more sort of hunting for subjects, and the… the poems about paintings came up at that time, partly because I… I was… I… I was asked by the University of Rochester to teach an evening course out at a little mansion that they had in a small town nearby, and this was to be a course in modern paint… modern art, and I told them I don't know anything about modern art, I was… they said: 'It doesn't matter, this is adult education, you don't have to know anything'. Well, very luckily I… I had very bright students who said such… such clever things that… that it got me started doing the poems about paintings. But I… so I did five of those I think, but I… I was still, you know, casting about for… and… and doing all these translations was one of the ways I was looking for subject matter.
American poet WD Snodgrass, entered the world of poetry with a bang winning several awards, including the Pulitzer Prize, for his first collection of poetry, Heart's Needle. A backlash followed his controversial fifth anthology "The Fuehrer Bunker", but in recent years these poems have been reassessed and their importance recognised.
Title: Seeking new subjects for my poetry
Listeners: William B. Patrick
William B. Patrick is a writer and poet who lives in Troy, New York. Among his work are the poetry volumes "We Didn't Come Here for This" and "These Upraised Hands", the novel "Roxa: Voices of the Culver Family" and the plays "Rescue" and "Rachel's Dinner". His most recent work is the non-fiction book "Saving Troy", based on the year he spent following the Troy Fire Department.

Mr. Patrick has been Writer-in-Residence at the New York State Writers Institute and has taught at Old Dominion University, Onondaga Community College, and Salem State College, and workshops in Screenwriting and Playwriting at the Blue Ridge Writers Conference in Roanoke, Virginia. He has received grants from the Academy of American Poets, the National Endowment for the Arts, the Massachusetts Artists Foundation, and the Virginia Commission for the Arts.
Tags: Formalist poets, Beat poets, USA, Detroit, University of Rochester, Allen Ginsberg
Duration: 3 minutes, 30 seconds
Date story recorded: August 2004
Date story went live: 24 January 2008