NEXT STORY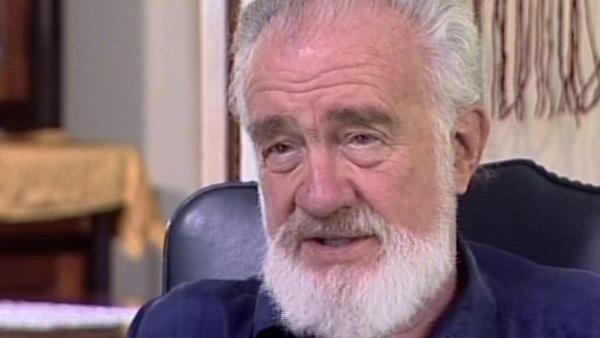 I was a sissy
My mother transforms our home into a fortress
1
2
3
4
5
...
10
We moved from house to house to house and the... each house in turn got bigger and really more impressive and... but more and more, it... it became a fortress and... in which she collected all kinds of junk, all kinds of trash. You could scarcely get through the hallways, it was... and when we moved in it was... it was a simply beautiful house full of light, high ceilings; the... the moldings around the... the rooms were... were a... a cherry that... a cherry wood that was now extinct in that part of the country, and... and, it was... it was a house that had been very experimental when built; it had its own... cleaning system in the basement and there were little... knobs on... or hooks on the wall that you could attach a tube to and then clean the room that way. By now that was all lost. It... it was a brick... great brick house; it sat on a... on a high pot... a little plot of ground across from the college. Somebody said it looked like an old soldiers' home sitting in a football field. It... It was a lovely house, we... we just loved it when we first came in. It had round corners; it was made of brick but the corners were rounded and there were great, you know, there were lots and lots of windows. There were windows in these round corners, the window itself curved and they would only lift about six inches but they would swing open, and gradually she managed to get all that light out of there, to get everything turned dark. She... I mean there were... there were beautiful fireplaces which she painted a black. She painted the hallways in a sort of dark bloody, like scabby... it... it was just amazing to happen… meantime she collected all these things. If she... if she needed some dishes, a dish or something, she wouldn't go out and buy one fine dish — and they could afford it, I mean, you know, a... as time went on he was making a lot of money — she would go out and buy 10 cheap ones and then they would always break and then she would save all the parts in different parts of the house, where you could never find them again but always with the promise that she would repair them. And if you... if, you know, if you said anything to her about it she said: 'But... but we always had so little when I was young.'
American poet WD Snodgrass, entered the world of poetry with a bang winning several awards, including the Pulitzer Prize, for his first collection of poetry, Heart's Needle. A backlash followed his controversial fifth anthology "The Fuehrer Bunker", but in recent years these poems have been reassessed and their importance recognised.
Title: My mother transforms our home into a fortress
Listeners: William B. Patrick
William B. Patrick is a writer and poet who lives in Troy, New York. Among his work are the poetry volumes "We Didn't Come Here for This" and "These Upraised Hands", the novel "Roxa: Voices of the Culver Family" and the plays "Rescue" and "Rachel's Dinner". His most recent work is the non-fiction book "Saving Troy", based on the year he spent following the Troy Fire Department.

Mr. Patrick has been Writer-in-Residence at the New York State Writers Institute and has taught at Old Dominion University, Onondaga Community College, and Salem State College, and workshops in Screenwriting and Playwriting at the Blue Ridge Writers Conference in Roanoke, Virginia. He has received grants from the Academy of American Poets, the National Endowment for the Arts, the Massachusetts Artists Foundation, and the Virginia Commission for the Arts.
Tags: junk, mother, home, collecting
Duration: 2 minutes, 52 seconds
Date story recorded: August 2004
Date story went live: 24 January 2008