NEXT STORY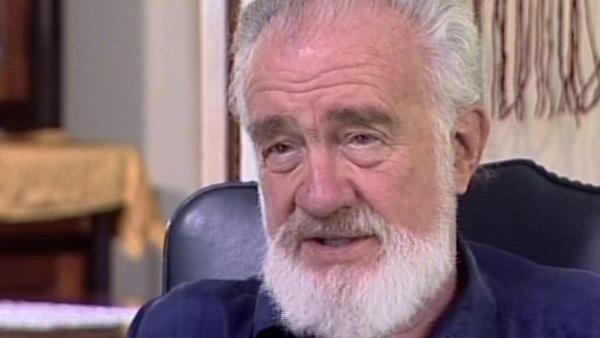 Himmler - the worst fuddy-duddy that ever lived
Giving a voice to Eva Braun in The Fuehrer Bunker
1
2
3
4
5
6
...
10
When I came here to Syracuse I… for some reason I started doing a poem about Albert Speer. I… I decided to do a monologue and I had been reading Trevor-Roper of course, and then I think one of Speer's books must have come out, or in any case, I wrote about him. So I started and I… I wrote a poem about… in… in his voice, and my friends here liked it and… and this… this quite surprised me and… and I thought well you know, this is… this is material that nobody… nobody in poetry is writing anything about, and so I… I got started and got… got… I, in time, came to wonder why not go ahead and try some of these other characters, and then… then decided that okay, I will have a different kind of verse form for each one, for Goebbels for instance… now, I hadn't read Faust for a while and I was thinking that I… that I was putting his… his poems in the same meter that the devil in Faust has. I wasn't, I was putting it in neat little couplets and… and they're… in… in Faust they are much more open couplets and it isn't so… the fall of stress and accent isn't nearly so much.
For Eva Braun — who was Hitler's mistress — I decided I would always use popular songs because… now she… her favorite song was Tea for Two and I'm not making this up. She… she liked Tea For Two so much that she had even made a German translation of it and could sing it in either language. I've never been able to get that translation, but in a way I… I thought, you know, this happens to me often.
I will discover what I am thinking by what I am singing. I remember going to a… a sort of terrible reading by Robert Frost at the time of the Cuban Crisis when he was sort of gloating over the whole audience and how they were all going to be killed and they wouldn't have… finish their careers and he was at the end of his, he had finished his. Oh, it… it was weird. And I came out of there with the young lady that I had… had met there in the — I met her in the railroad… railroad station there — and… and I was taking her around to these different occasions, and I came out and suddenly I'm behaving very badly, in... in a way. R P Blackmur was there, and he… all the time that Frost was saying these things, he… I think he was one of the very few people who understood what Frost was saying, but he was saying: 'You old son of a bitch, you old… you old dog, you'. And… and I… I wasn't even aware how furious I was, but I came out suddenly singing, in a fairly loud voice, an old Scottish ballad of betrayal where the wife betrays the… the husband, and I was singing: 'She was singin' and dancin' and laughin' for joy, she's vowed that very night she would feast Inveray' and I think: What the hell am I doing, and suddenly I realized, yeah, I just feel so betrayed by this that I am singing this ballad about betrayal. Well, I… I find myself doing that all the time. I mean I wake up in the morning with a song going through the back… or… or it's usually classical music, and especially early music, and sometimes I… I have no idea what the connection is between that and what I am consciously thinking about. But anyway, so I thought okay, let's have her do that and she can sing popular songs and… and that can be a… give sort of a… an edge into what she is doing.
American poet WD Snodgrass, entered the world of poetry with a bang winning several awards, including the Pulitzer Prize, for his first collection of poetry, Heart's Needle. A backlash followed his controversial fifth anthology "The Fuehrer Bunker", but in recent years these poems have been reassessed and their importance recognised.
Title: Giving a voice to Eva Braun in "The Fuehrer Bunker"
Listeners: William B. Patrick
William B. Patrick is a writer and poet who lives in Troy, New York. Among his work are the poetry volumes "We Didn't Come Here for This" and "These Upraised Hands", the novel "Roxa: Voices of the Culver Family" and the plays "Rescue" and "Rachel's Dinner". His most recent work is the non-fiction book "Saving Troy", based on the year he spent following the Troy Fire Department.

Mr. Patrick has been Writer-in-Residence at the New York State Writers Institute and has taught at Old Dominion University, Onondaga Community College, and Salem State College, and workshops in Screenwriting and Playwriting at the Blue Ridge Writers Conference in Roanoke, Virginia. He has received grants from the Academy of American Poets, the National Endowment for the Arts, the Massachusetts Artists Foundation, and the Virginia Commission for the Arts.
Tags: Syracuse, Syracuse University, Tea for Two, Faust, Albert Speer, Hugh Trevor-Roper, Joseph Goebbels, Eva Braun, Adolf Hitler, Robert Frost, RP Blackmur
Duration: 4 minutes, 20 seconds
Date story recorded: August 2004
Date story went live: 24 January 2008