NEXT STORY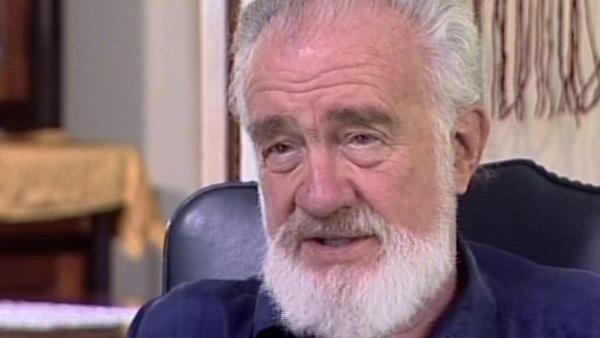 Max Frisch's Biedermann and the Firebugs
Himmler - the worst fuddy-duddy that ever lived
1
...
3
4
5
6
7
...
10
I… I thought Himmler, who was… he was the worst fuddy-duddy that ever lived. I mean, you know, he had everybody's… he had the whole continent scared blue. As a matter of fact it say… it says in the book he had them shitting pink, and… and he did. I mean, you know, he killed all those people, and… and yet he was always running round: 'What to do, what should we do about this or that', and… and became very indecisive. He tried very hard to make himself a strong, tough, you know, Nazi, but he… at heart he… he was anything else. He... he went to one of the executions that he had ordered and threw up, became sick at his stomach, you know, so… and… and he also had sort of very obvious codes that he would talk in, but everybody would have understood them. He called the banker — what the hell was his name —, I can't… the… the man who… who sort of got the… got the — I'm not thinking straight this morning — he got the money back on the up and up. He had big moustache. He always said, 'Now the walrus said', well everybody knew who the… who he was talking about.
So anyway, what I did was: I will make… I... I will make a verse form, which I will call the platoon, and it's on graph paper and in every line there will be 30 letters and spaces, and then down the left hand margin it'll be an alphabet acrostic, the first line begins with A, the second line begins with B, the second line be… and in other words it's a very rigid verse form that has no music, and there are two people in… in the cycle who have no music whatsoever in their voices. I mean he's one, the other is Speer, and… and to me this means a kind of… oh, mental sterility, and a… and a real lack of something emotional in their… in their makeup that their music… that there is no music to how they talk.
American poet WD Snodgrass, entered the world of poetry with a bang winning several awards, including the Pulitzer Prize, for his first collection of poetry, Heart's Needle. A backlash followed his controversial fifth anthology "The Fuehrer Bunker", but in recent years these poems have been reassessed and their importance recognised.
Title: Himmler - the worst fuddy-duddy that ever lived
Listeners: William B. Patrick
William B. Patrick is a writer and poet who lives in Troy, New York. Among his work are the poetry volumes "We Didn't Come Here for This" and "These Upraised Hands", the novel "Roxa: Voices of the Culver Family" and the plays "Rescue" and "Rachel's Dinner". His most recent work is the non-fiction book "Saving Troy", based on the year he spent following the Troy Fire Department.

Mr. Patrick has been Writer-in-Residence at the New York State Writers Institute and has taught at Old Dominion University, Onondaga Community College, and Salem State College, and workshops in Screenwriting and Playwriting at the Blue Ridge Writers Conference in Roanoke, Virginia. He has received grants from the Academy of American Poets, the National Endowment for the Arts, the Massachusetts Artists Foundation, and the Virginia Commission for the Arts.
Tags: Nazis, The Platoon, Heinrich Himmler, Albert Speer
Duration: 2 minutes, 46 seconds
Date story recorded: August 2004
Date story went live: 24 January 2008