NEXT STORY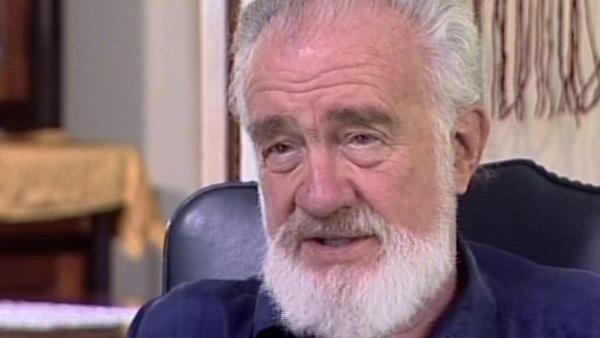 The use of new verse forms in The Fuehrer Bunker
Joseph and Magda Goebbels were both unfaithful
1
...
3
4
5
6
7
...
10
So she married Goebbels. I mean, she… she was just a pattern of infidelity. Meantime of course he was… he was the most unfaithful. I mean he was the head of things like movie making and so forth, so he kept a casting couch. He laid all the… all the actresses, and incidentally — odd, strange — they all report that he was a most thoughtful and generous lover. But you know… you know, he was a… he was a little man — crippled — and… and so he looked very funny alongside all of those big macho hunks. She was willing to put up with that until he fell in love with a Czech actress named Lida Baarova. She died within the last six months, I believe, and she was still just extravagantly beautiful. She… you just can't imagine how anybody can be 90 and still look that wonderful.
Anyway, they fell deeply in love. This wasn't just a… a you know, lay and get out of here business, they… they were like American teenagers. When he was working late at the office at night, he would leave the telephone open… his telephone off the hook and she, hers, they would make a phone call and then leave the phone so they could hear each other breathe. Can you imagine Joseph Goebbels being that sentimental? It's just incredible. That his wife would not put up with! And they were going to get married. She in the mean… in the meantime had become attracted to… to an army officer named Karl Hanke, who was a close friend of Speer's, and Speer also was attracted to her, although I… I have no idea whether anything happened there. He was… he was going to go with Lida Baarova, she was going… Hitler came in and said: 'No, you will be a proper Nazi family! This will not happen! You are an example to the… to the public, cut it out!' And they cut it out. Lida Baarova was sent back to Czechoslovakia, Hanke I think became… yeah, he was Gauleiter of Breslau, and in the last days in the bunker, they sat toge… rocking together holding hands like a happily married old couple.
I mean that the paradoxes are just so… meantime Hanke, if I could just —this… this doesn't come into… into my book anywhere — but he… he was the Gauleiter of Breslau looking after… as the Russians came in he was about to surrender, leave the… an open city and surrender it to save the city —- the man who had been Gauleiter of the city — Hanke came in, saw this, forbid it, and had his friend — the mayor — hanged in public. Then he himself, when the Russians got closer, flew out, saved himself.
American poet WD Snodgrass, entered the world of poetry with a bang winning several awards, including the Pulitzer Prize, for his first collection of poetry, Heart's Needle. A backlash followed his controversial fifth anthology "The Fuehrer Bunker", but in recent years these poems have been reassessed and their importance recognised.
Title: Joseph and Magda Goebbels were both unfaithful
Listeners: William B. Patrick
William B. Patrick is a writer and poet who lives in Troy, New York. Among his work are the poetry volumes "We Didn't Come Here for This" and "These Upraised Hands", the novel "Roxa: Voices of the Culver Family" and the plays "Rescue" and "Rachel's Dinner". His most recent work is the non-fiction book "Saving Troy", based on the year he spent following the Troy Fire Department.

Mr. Patrick has been Writer-in-Residence at the New York State Writers Institute and has taught at Old Dominion University, Onondaga Community College, and Salem State College, and workshops in Screenwriting and Playwriting at the Blue Ridge Writers Conference in Roanoke, Virginia. He has received grants from the Academy of American Poets, the National Endowment for the Arts, the Massachusetts Artists Foundation, and the Virginia Commission for the Arts.
Tags: Czechoslovakia, Gauleiter of Breslau, Breslau, Joseph Goebbels, Magda Goebbels, Lída Baarová, Karl Hanke, Albert Speer, Adolf Hitler
Duration: 3 minutes, 48 seconds
Date story recorded: August 2004
Date story went live: 24 January 2008