NEXT STORY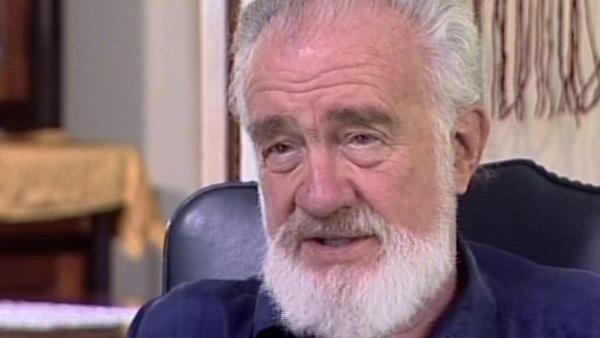 Putting The Fuehrer Bunker on stage ruined my career for 20 years
The Fuehrer Bunker as a stage play
1
...
4
5
6
7
8
...
10
I ran into an old friend named Wynn Handman, who… who was the head of The American Place Theatre for a long time, which did a lot of wonderful experimental work, and… and some of the very best actors around now sort of began work with him. And we had… we had become friends. Then Lowell had a… had a play that was done there, and I was brought in to review it and ended up being in a big fight with The New York Review of Books about… about my… my review and things. But… so… but it… it… I had fairly close relations with Wynn, who was a very, you know, very good guy, and very, very bright, a wonderful teacher. And he said, 'Why don't you make… we'd like you to make a play for us'. And I… I said, you know: 'I… I've tried making plays. They're terrible. I'm never going to do that again'. He said, 'But look, what are you working on?' I told him about this. He says, 'Can't you make that into a stage piece?' So that's what I tried to do. And he… he cast it. And let's see. He got… for the director, he got Carl Weber, who had worked with Brecht for about 10 years. So we had a German director, but at least two thirds of the cast and the crew were Jewish, and many of them very dedicated to Jewish, you know, projects and aims. They… I… I thought they did a quite wonderful job on it, although I should say this. They mounted it three times. The first time they mounted it, it was rather like… it was rather like a play, and it was all done in a single set there. And I felt rather pleased with it. The musician, Richard Peasley, — who… who's done an awful lot of stuff on Broadway — he wasn't. He says: 'I don't think this does a service to the text'. I was astonished. But as I… you know, as he talked a little more, I came to see, yeah, I think he's right. And they came to… to think he was right.
So some months later, they — and with a partly new cast be… because, you know, people get hired and go off to Hollywood or disappear someplace — they did it the second time. This was very experimental. They had now… they had a Moog synthesizer and a percussionist right out on the front of the stage. Each of the parts might be taken by two or three actors who might move in and do things. There were microphones hidden on stage and speakers hidden in… in the auditorium. So you could never tell from what direction a voice might be coming at you or if… if it was coming… and this, I must say, fit with my thinking about the thing because I thought of it not as being like a play but… but as like a sort of speech oratorio or something of that sort. And of course, these people's voices were very good, and I had composed some choruses for them and things like this. And now they only did about maybe the first third of it this way. They got through it. And I… I was absolutely delighted with it. I thought… I thought, this is wonderful. This is the way to do it because that's what it is. It isn't a play. It doesn't have the… I talked about, you know, I'm not very good at direct conflicts. And this gets away from that. I mean, the conflicts here are all inside the people. They… you've got these guys who have done all these terrible things, and they know that, that they're going to have to stand trial, or that they're just going to be shot or… if they're lucky. Otherwise, they may get hanged or just ripped, you know, limb from limb. So how do they… how do they react to this sense of their own guilt, which they cannot entirely ignore anymore? And it seems to me, this worked just splendidly. Then… but I was still teaching back here.
So after that… they had finished that part of it, I came back… back here and didn't… couldn't go in until they were fairly well into the third mounting of it. And there I saw… there I saw something that… the stage manager's girlfriend came over to me about that second thing and… or, no. She came… it was later. I'm sorry. Cancel that. I didn't say that. They now had broken the stage up into little… several little compartments and different rooms and were now doing it again rather like a play. And I… I protested violently, well, as loud as I can, anyway.
American poet WD Snodgrass, entered the world of poetry with a bang winning several awards, including the Pulitzer Prize, for his first collection of poetry, Heart's Needle. A backlash followed his controversial fifth anthology "The Fuehrer Bunker", but in recent years these poems have been reassessed and their importance recognised.
Title: "The Fuehrer Bunker" as a stage play
Listeners: William B. Patrick
William B. Patrick is a writer and poet who lives in Troy, New York. Among his work are the poetry volumes "We Didn't Come Here for This" and "These Upraised Hands", the novel "Roxa: Voices of the Culver Family" and the plays "Rescue" and "Rachel's Dinner". His most recent work is the non-fiction book "Saving Troy", based on the year he spent following the Troy Fire Department.

Mr. Patrick has been Writer-in-Residence at the New York State Writers Institute and has taught at Old Dominion University, Onondaga Community College, and Salem State College, and workshops in Screenwriting and Playwriting at the Blue Ridge Writers Conference in Roanoke, Virginia. He has received grants from the Academy of American Poets, the National Endowment for the Arts, the Massachusetts Artists Foundation, and the Virginia Commission for the Arts.
Tags: The American Place Theater, The New York Review of Books, Broadway, Hollywood, Wynn Handman, Robert Lowell, Carl Weber, Bertolt Brecht, Richard Peasley
Duration: 5 minutes, 53 seconds
Date story recorded: August 2004
Date story went live: 24 January 2008