NEXT STORY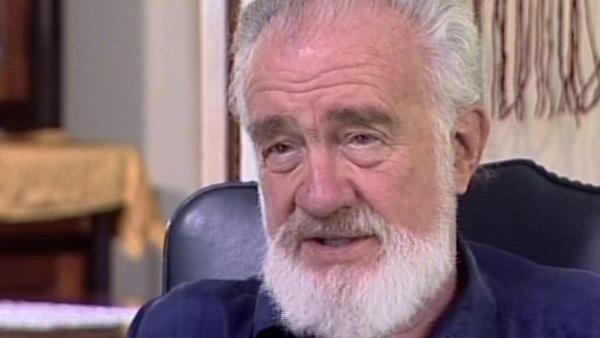 Critics' reviews of the production of The Fuehrer Bunker
Putting The Fuehrer Bunker on stage ruined my career for 20 years
1
...
4
5
6
7
8
...
10
You know, I wanted them to do this, but… but this seemed to me a terrible mistake and didn't have the force and vive that that other thing had had. And… but Carl — the director — had said: 'No, to have that much amplified voice used through the whole length of time of the theatre would be too tiring to the audience. They… they wouldn't accept that'. And… so they went ahead and did this. I felt they're going the wrong way. At the same time, it was such a delight to watch Carl work with the actors, that, you know, I was… it was just… it was just a joy to watch… to watch how he worked with these people and the things that… that he… the business that he came up with them to do.
And anyway, then the show… the show went on. And it got… got very bad reviews everywhere except from Clyde James [sic], who had been the New York Times reviewer until two weeks before. He'd got fired. And he was now with some little junky newspaper. If he'd… if he'd still been at the Times, that thing would still be running now. It… it was a… it was a beautiful review which really understood what it was about and understood the aim of it, got the whole point. And… but it… but it appeared in a place that had no… no real influence. There were two other favorable reviews written by absolute idiots. And… and, you know, you… you had the feeling: if they like… if they like me, I've got to be no good at all. The… the other ones were all very anti. It… it ran for the full time that it was supposed to. They had hoped that if it was selling a lot of tickets, that then they would extend the run. They didn't do that. And of course, as soon as they announced the cancellation, thousands of phone calls came in for tickets.
But I must say the… the one thing that convinced me of the total prejudice of the people who were reviewing was that not one mentioned the brilliance of the… of the actors. And they were superb. They were just splendid. And you know, at least they could have been give… given credit for that. They enjoyed doing it. They all said they just loved it. And that… that's about it, I would expect. Ok. And it… it ended my career for at least 20 years. I mean, you know, I was completely ostracized. Not completely, but I… I was kept out of the anthologies. I was kept out of critical discussions. It just… in general… everybody just said, if we don't mention him, maybe he'll go away. It may be… you know, that's my view of it. It may just be that my poems got worse. I… I sort of don't think that was the case. I… I think that… well, the… well, as a matter of fact, I used to think, I'm… I'm being paranoid about this. Probably my poems aren't… aren't that strong as they were now, you know. The early poems were about losing my daughter. Well, you know, that's got to be dri… grief dripping. I never could read those poems in public because I'd break up. I… I fall apart. I… I don't feel that way about… about this. Maybe my feelings aren't as strong. Maybe these poems aren't as good. And then, several times people came to me and said what they had heard people say at… at conferences, at mee… meetings where they got together to award… to give awards. For 25 years, I didn't get an award — of any kind — they wouldn't tell me who was involved in this, but that someone had proposed my name for this or that award, and someone got up and said, 'Over my dead body does that man ever get an award'. Well, Robert Lowell wrote to me and said, 'You are hated in certain ver… in certain…' he said: 'Count me on your side here. But you are hated in certain areas here'. And yeah. Well, as a matter of fact, Al Poulin said, 'They will never forgive you'. He's… he was the editor of this… this volume. And so you know, I thought no, I'm not making it up.
American poet WD Snodgrass, entered the world of poetry with a bang winning several awards, including the Pulitzer Prize, for his first collection of poetry, Heart's Needle. A backlash followed his controversial fifth anthology "The Fuehrer Bunker", but in recent years these poems have been reassessed and their importance recognised.
Title: Putting "The Fuehrer Bunker" on stage ruined my career for 20 years
Listeners: William B. Patrick
William B. Patrick is a writer and poet who lives in Troy, New York. Among his work are the poetry volumes "We Didn't Come Here for This" and "These Upraised Hands", the novel "Roxa: Voices of the Culver Family" and the plays "Rescue" and "Rachel's Dinner". His most recent work is the non-fiction book "Saving Troy", based on the year he spent following the Troy Fire Department.

Mr. Patrick has been Writer-in-Residence at the New York State Writers Institute and has taught at Old Dominion University, Onondaga Community College, and Salem State College, and workshops in Screenwriting and Playwriting at the Blue Ridge Writers Conference in Roanoke, Virginia. He has received grants from the Academy of American Poets, the National Endowment for the Arts, the Massachusetts Artists Foundation, and the Virginia Commission for the Arts.
Tags: The New York Times, Carl Weber, Clive Barnes, Robert Lowell, Al Poulin
Duration: 5 minutes, 19 seconds
Date story recorded: August 2004
Date story went live: 24 January 2008