NEXT STORY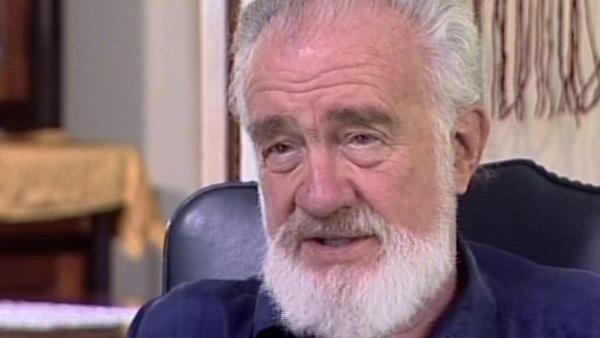 Failure of my third marriage
Critics' reviews of the production of The Fuehrer Bunker
1
...
4
5
6
7
8
...
10
I had been warned by… by Wynn Handman not to expect anything from the critics. You know, they did some… some really marvelous experimental plays and, and things there. And people like Dustin Hoffman, Frank Langela, Roscoe Lee Brown got something very close to their start right there and… and first got much notice from performances they did. But… but they never got any credit… credit from the critics. So we didn't expect anything. To… to our great surprise, the one really good review came from Clive Barnes, who up till two weeks before that, had been the… the reviewer for the New York Times, but for some reason had been thrown out and was now with some… some little paper off in the way of… a New York paper, but one that no one paid any attention to. And the funny thing about that… he gave a… an extremely good review. I mean, it… I don't know whether you'd call it a rave or not, but he… he liked it very much. And… and his review showed a real understanding of it and what it was aiming at and what it was doing. And the funny thing about that is that he appeared to sleep through the whole performance. Of course, when he came in, everybody was: 'There's Clive Barnes'. And… and so everybody was watching him, and he seemed to be asleep through the whole thing. And he got every bit of it. Well, there were two other positive reviews, people that liked it. But they were obviously such idiots that, you know, it… it made you wonder if it could possibly be any good at all if they liked it.
American poet WD Snodgrass, entered the world of poetry with a bang winning several awards, including the Pulitzer Prize, for his first collection of poetry, Heart's Needle. A backlash followed his controversial fifth anthology "The Fuehrer Bunker", but in recent years these poems have been reassessed and their importance recognised.
Title: Critics' reviews of the production of "The Fuehrer Bunker"
Listeners: William B. Patrick
William B. Patrick is a writer and poet who lives in Troy, New York. Among his work are the poetry volumes "We Didn't Come Here for This" and "These Upraised Hands", the novel "Roxa: Voices of the Culver Family" and the plays "Rescue" and "Rachel's Dinner". His most recent work is the non-fiction book "Saving Troy", based on the year he spent following the Troy Fire Department.

Mr. Patrick has been Writer-in-Residence at the New York State Writers Institute and has taught at Old Dominion University, Onondaga Community College, and Salem State College, and workshops in Screenwriting and Playwriting at the Blue Ridge Writers Conference in Roanoke, Virginia. He has received grants from the Academy of American Poets, the National Endowment for the Arts, the Massachusetts Artists Foundation, and the Virginia Commission for the Arts.
Tags: The New York Times, Wynn Handman, Dustin Hoffman, Frank Langela, Roscoe Lee Brown, Clive Barnes
Duration: 1 minute, 52 seconds
Date story recorded: August 2004
Date story went live: 24 January 2008