NEXT STORY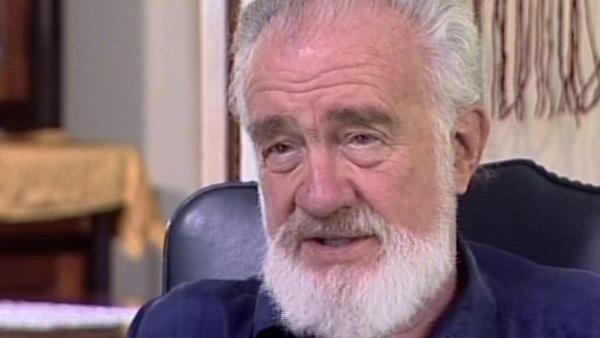 An aggrieved response to The Fuehrer Bunker
Another attack on The Fuehrer Bunker
1
...
4
5
6
7
8
...
10
I feel it's my… it's my major effort. I worked at it for 35 years. I read all those awful books, all those lying books. And sometimes, when I go back to it now and again, I think: Hey, this is pretty good, you know? And I'm… and I'm surprised because, you know, I tend to believe what other people tell me about it. They say it's rotten. I think well, you know, you never know for 75 years whether it is or not. Maybe they're right. But whe… then I go back and I… as a matter of fact, there… there… it's been 23 years since that performance. That was 1981. Some former students of Wynn Handman's are putting together a new one now, you know. And it is funny because my reputation is beginning to come back now that I don't need it so badly; I'm retired. I… I don't really need a career. I can… can live on my retirement fairly well. But… and every now and then, young kids will come up to me and say: 'Hey, I've been reading The Fuehrer Bunker, and that's my favorite of your… of your work'. You know, I kiss them and give them… give them every cent I've got. I really… Jesus, have they got nerve. I… I don't usually read them in… in… when I give readings just because I don't want all this controversy, I… I just get sick of it.
You know, it's really funny. I… I gave a reading once at Philadelphia for Phil Berg. Or, Phil… Steve Berg, you know, who… who edits The American Poetry Review and who has always been a supporter of… of mine. He's a lovely guy. He said… he had me do a reading. And I did one or two poems out of the Bunker. The one that I almost always read is the Eva Braun poem where she sings Tea for Two. And then I think I did one other. A man got up at the back of the auditorium and said, 'How dare you glorify these monsters.' My jaw dropped down to here. I thought… I mean, I just… I thought, glorify? I mean, these poems say such… say worse things about them than any historian has ever said. Fortunately, I didn't… Steve was there, and he sort of set his hand on… on my arm and said: 'Just wait'. The audience… the rest of the audience sort of rose up and answered this, and answered it very well. I didn't have to say a word. The very next day, I got a letter from that same man repeating all those accusations except that he had changed 'glorify' to 'humanize'. You've humanized them. Well, I wrote back to him and said, 'You know, one of the things that we… that… that we really basically accuse the Germans about is that they claimed that the Jews were not human. I don't think we ought to imitate their manners… by saying that whoever we see as our enemy was not human.'
American poet WD Snodgrass, entered the world of poetry with a bang winning several awards, including the Pulitzer Prize, for his first collection of poetry, Heart's Needle. A backlash followed his controversial fifth anthology "The Fuehrer Bunker", but in recent years these poems have been reassessed and their importance recognised.
Title: Another attack on "The Fuehrer Bunker"
Listeners: William B. Patrick
William B. Patrick is a writer and poet who lives in Troy, New York. Among his work are the poetry volumes "We Didn't Come Here for This" and "These Upraised Hands", the novel "Roxa: Voices of the Culver Family" and the plays "Rescue" and "Rachel's Dinner". His most recent work is the non-fiction book "Saving Troy", based on the year he spent following the Troy Fire Department.

Mr. Patrick has been Writer-in-Residence at the New York State Writers Institute and has taught at Old Dominion University, Onondaga Community College, and Salem State College, and workshops in Screenwriting and Playwriting at the Blue Ridge Writers Conference in Roanoke, Virginia. He has received grants from the Academy of American Poets, the National Endowment for the Arts, the Massachusetts Artists Foundation, and the Virginia Commission for the Arts.
Tags: Philadelphia, The American Poetry Review, Tea for Two, Wynn Handman, Stephen Berg, Eva Braun
Duration: 3 minutes, 56 seconds
Date story recorded: August 2004
Date story went live: 24 January 2008