NEXT STORY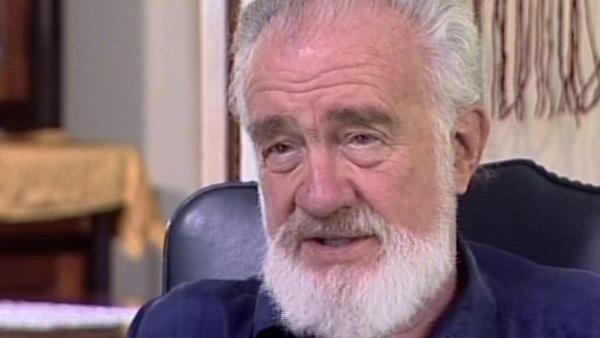 A strict upbringing the Presbyterian way
1
2
3
4
5
...
10
My mother was the strong one; you attach yourself to whoever has strength and it was clear that she ran the family. I mean that she could... she could buy all these things like this, she could produce these terrible meals, she... she could... well; the whole place was just filled with junk. I mean there were stoves and things that didn't work... a mangle, you know, to iron with, sitting there in the kitchen, all these things were sitting there. There were pots and pans hanging on the walls, which were covered with fuzz... and dust; this is a steel mill city, but they had... they were all wearing sweaters! It was just crazy. And you know, she... she would have a fire on the stove every day. Well, every other day. Be... so she had great bins of salt sitting there, and she would throw heap... saying, 'You know it's perfectly all right, don't worry about it', and... and throw salt onto the fire to put it out, and you know, it was... it was just weird. And... but...even if they went out say, they would go out to... for a drive someplace, and they would pass one of these places that had yard art — funny now, with... with Kat my wife, and me, we... we go by one of these places, we say, 'Yard art, yard art!', like: alarm, alarm! — she... she and she would go in and want to buy a bunch of these things and then... and then she would usually say, 'Oh no, I don't need that', and he would say, 'Go ahead Helen, you know we can afford that' and he would encourage her. Maybe that was his way of trying to... to win her back, but it... it's clear that she was the power, she had...she had the rule there.
I remember when we were little kids, we — you know, we were very religious — we had to... before we said... went to... to bed, we had to kneel down at our parents' knees and... and give a... a night prayer. One night my father — my mother was away — and so my father said: 'You can come and say your prayers to me'. Well of course, if... if you even put it in that terms that means that the parent is in the position of the divinity: you can say your prayers to me. I said, 'No, I want to wait till mother comes home' and he says, 'No, you have to do this now, you have to go to bed'. And I refused. And without realizing it I clenched my fists, and he says, 'You want to fight me, come on'. I almost fainted with terror. I mean, he was so much stronger than I, and... and I knew by... well he used to claim that when he and I would have boxing lessons — he was trying to teach me to be more like him — he'd say... he'd say: 'If... If you hit Claire English, your... the kid you're having a fight with at school, if you hit him half as hard as you hit me, you'd win every fight'; but somehow the thought that... that he... that maybe he was actually going to hit me just... just put me in an utter panic. I don't know what the hell I did.
American poet WD Snodgrass, entered the world of poetry with a bang winning several awards, including the Pulitzer Prize, for his first collection of poetry, Heart's Needle. A backlash followed his controversial fifth anthology "The Fuehrer Bunker", but in recent years these poems have been reassessed and their importance recognised.
Title: My mother was in charge
Listeners: William B. Patrick
William B. Patrick is a writer and poet who lives in Troy, New York. Among his work are the poetry volumes "We Didn't Come Here for This" and "These Upraised Hands", the novel "Roxa: Voices of the Culver Family" and the plays "Rescue" and "Rachel's Dinner". His most recent work is the non-fiction book "Saving Troy", based on the year he spent following the Troy Fire Department.

Mr. Patrick has been Writer-in-Residence at the New York State Writers Institute and has taught at Old Dominion University, Onondaga Community College, and Salem State College, and workshops in Screenwriting and Playwriting at the Blue Ridge Writers Conference in Roanoke, Virginia. He has received grants from the Academy of American Poets, the National Endowment for the Arts, the Massachusetts Artists Foundation, and the Virginia Commission for the Arts.
Tags: mother, father, strength, family, junk, yard art, fire, prayer, boxing, fear
Duration: 3 minutes, 38 seconds
Date story recorded: August 2004
Date story went live: 24 January 2008