NEXT STORY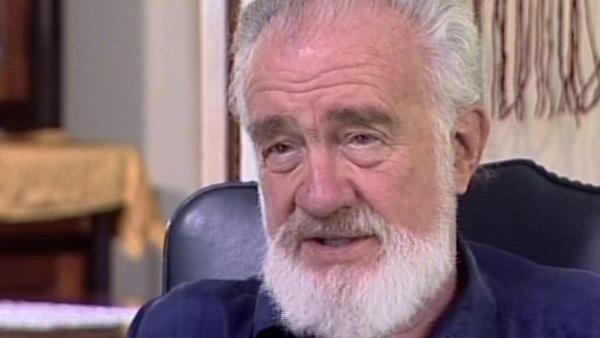 A working partnership with DeLoss McGraw
DeLoss McGraw and the Snodgrass lithographs
1
...
5
6
7
8
9
10
You know, I felt a little bit… that was a little… oh, I'm not trying to com… compare myself to the giants. Maybe I am. But pretend I'm not. You know, after Rilke… after Rilke finally is able to… to write the great elegies, then… then he writes a whole bunch of little poems, and they're light poems — The Sonnets to Orpheus — and wh… whereas you feel that the elegies — The Duino Elegies — are… they're necessary. Well, I felt that way about The Fuehrer Bunker. It… I have to do this. And as a matter of fact, if… if I die, and… and I haven't finished it, I… I will feel I'm a failure. I felt I'd finished it; I can do some light things.
Well, along came an opportunity. A man named DeLoss McGraw wrote me… wrote me a… a letter and said: 'You…' he said: 'You don't know me; I'm a painter. I'm going to go spend a couple days at Cranbrook, the… the art institute outside Detroit. And I want to make a couple color lithographs'. Frankly, I don't think I knew even what a color lithograph is. But he said, 'and I want to use your name'. And I thought: use my name? How can you use my name in a color lithograph? You know, I feel like… that old… that old joke — Oh, who was it — Henny Youngman who used to say: 'Take my wife, please!' You know, I feel like, take my name, please! If you have a name like DeWitt Snodgrass, you know, take it in vain. Take it away. Take it, just take it! And… here he… he said… so I… I wrote to him and said, 'Yeah, yeah, sure, go ahead. Help yourself. But you know, if you take any pictures as slides, we'd… we'd, we'd love to see them.' To our utter amazement — we were living in Newark, Delaware, then, and I was with Kathy — and here came a package in the mail about this… this wide and about this long. And we couldn't imagine what the hell it was. We opened it up; there's two color lithographs. And one is… is called WD Snodgrass, You Sentimental Fool, and the other one is called, WD Snodgrass, You Silly Man, Come in out of the Rain. And we just thought these were wonderful. And we said, 'Jesus, this is just marvelous. Anything else, you know, anything else you take pictures of, give… send us copies, please'. And he sent us a whole bunch of things then, which I took to Mexico with us… we were on our way… by now we had started wintering in Mexico.
And… and we… so we took… we didn't really look at them while… while we were up there in the… Ah, you know, we ran through them, but we didn't really look. When we got down there, we got really fascinated with these pictures. And there was one in which it… it showed, WD… by now, I'd got him to drop my last name. The name WD was… WD Attempts to Save Cock Robin. And there was this man carrying on his back a bird upside down… a great big bird, a bird as big as he is, which has not only wings, but arms. And the arms are dragging over backwards. And he… he's laboring under the weight of this bird, which is either dead or injured. You don't know which. And I… I you know, I thought, he can't have all the fun out of this. I mean, I'm going to get in this game. So I started doing poems based on his paintings. I had earlier done some, some poems about the real modern classics, you know, Van Gogh and Matisse and… and so on. But this here, I was doing… got interested in doing something about somebody… that somebody's doing right now.
American poet WD Snodgrass, entered the world of poetry with a bang winning several awards, including the Pulitzer Prize, for his first collection of poetry, Heart's Needle. A backlash followed his controversial fifth anthology "The Fuehrer Bunker", but in recent years these poems have been reassessed and their importance recognised.
Title: DeLoss McGraw and the Snodgrass lithographs
Listeners: William B. Patrick
William B. Patrick is a writer and poet who lives in Troy, New York. Among his work are the poetry volumes "We Didn't Come Here for This" and "These Upraised Hands", the novel "Roxa: Voices of the Culver Family" and the plays "Rescue" and "Rachel's Dinner". His most recent work is the non-fiction book "Saving Troy", based on the year he spent following the Troy Fire Department.

Mr. Patrick has been Writer-in-Residence at the New York State Writers Institute and has taught at Old Dominion University, Onondaga Community College, and Salem State College, and workshops in Screenwriting and Playwriting at the Blue Ridge Writers Conference in Roanoke, Virginia. He has received grants from the Academy of American Poets, the National Endowment for the Arts, the Massachusetts Artists Foundation, and the Virginia Commission for the Arts.
Tags: The Sonnets to Orpheus, The Duino Elegies, The Fuehrer Bunker, Cranbrook Academy of Art, Detroit, Newark, Delaware, WD Snodgrass, You Sentimental Fool, WD Snodgrass, You Silly Man, Come in out of the Rain, Mexico, WD Attempts to Save Cock Robin, Rainer Maria Rilke, DeLoss McGraw, Henry Youngman, Vincent Van Gogh, Henri Matisse
Duration: 4 minutes, 10 seconds
Date story recorded: August 2004
Date story went live: 24 January 2008