NEXT STORY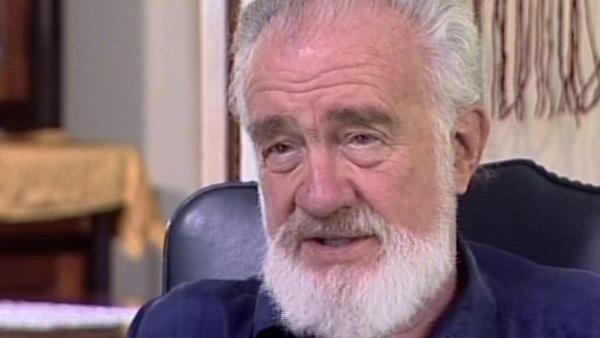 Fathoming the original meaning in translated poems
My methods when translating poetry
1
...
5
6
7
8
9
10
I do try to find… stay very close to the literal sense. But I'm sure that the music of the poem and the way the language gears together… does something different. I mean… I mean, and you know, the brain is trying… the poem is trying to in… involve as much of the brain as possible in there. And a good many of the parts of the brain are going to be doing different things in a poem that's been translated into another language. So I found myself doing that. And I… I spoke also of… of how I was moved by the songs of… of Hugues Cuenod. And… and I wanted to sing those songs. But I can't learn other languages. I'm… I'm too dilatory or too lazy or something like that. The only other… the only language that — aside from English — that I've ever been able to learn at all is ancient Greek. And… and I've never published any… any translation from ancient Greek. I… I once did one, but I didn't publish it. I… I've done translations from at least 20 other languages, none of which I'm able to read or speak. I love to work with somebody else on… on this, a native speaker or a… or a scholar of the… I mean, I've done a lot of the troubadour songs. There I'm working with scholars. Well, you know, a lot of this stuff that I… that I'm working with are things that the ordinary reader will think: Oh, that stuff's deadly dull. Only the scholars really know how… how vitally interesting the stuff is. And they… when they see a chance to have the poem come to life again, they're… they're really anxious to work with you. And… and it's very nice not to be locked up at your desk by yourself all the time. Also, this way, A, you… you meet some really dandy people and some very learned people. You also get to know the poems in a much more intimate way than you… than at least I would be able to otherwise. And also, you learn something about what… what poems are… how… what go… what goes into them.
American poet WD Snodgrass, entered the world of poetry with a bang winning several awards, including the Pulitzer Prize, for his first collection of poetry, Heart's Needle. A backlash followed his controversial fifth anthology "The Fuehrer Bunker", but in recent years these poems have been reassessed and their importance recognised.
Title: My methods when translating poetry
Listeners: William B. Patrick
William B. Patrick is a writer and poet who lives in Troy, New York. Among his work are the poetry volumes "We Didn't Come Here for This" and "These Upraised Hands", the novel "Roxa: Voices of the Culver Family" and the plays "Rescue" and "Rachel's Dinner". His most recent work is the non-fiction book "Saving Troy", based on the year he spent following the Troy Fire Department.

Mr. Patrick has been Writer-in-Residence at the New York State Writers Institute and has taught at Old Dominion University, Onondaga Community College, and Salem State College, and workshops in Screenwriting and Playwriting at the Blue Ridge Writers Conference in Roanoke, Virginia. He has received grants from the Academy of American Poets, the National Endowment for the Arts, the Massachusetts Artists Foundation, and the Virginia Commission for the Arts.
Tags: Troubadours, Hugues Cuenod
Duration: 2 minutes, 37 seconds
Date story recorded: August 2004
Date story went live: 24 January 2008