NEXT STORY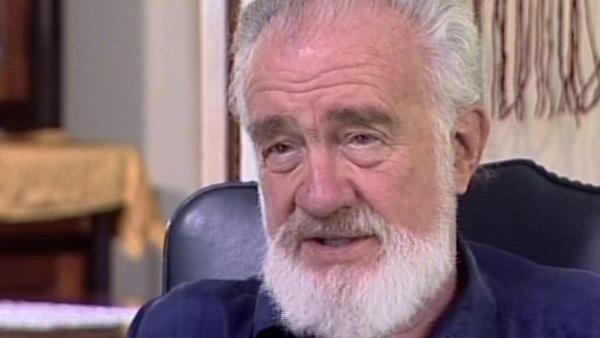 Meeting Mihai Pop in Romania
Fathoming the original meaning in translated poems
1
...
5
6
7
8
9
10
How do you learn that?
By getting closer to the sense that a… a native speaker would… would find there, the things beyond literal sense. For ins… they can tell you about them, or you can feel them. And… and also, you can hear the thing read in the original language. I… I don't know. It happens in ways that I… I don't quite understand. I remember doing a poem of Rilke's once. And it was with a lady who happened to live across the street from me who was a… who was a German native. And she read the poem once or twice, and I suddenly realized, ok, at this point there has to be a kind of pun happening between this word and that word down there. I didn't understand German. I just knew that that had to happen in the poem, and so I asked her about it. She said, 'Yes, how did you know that?' I don't know. That's just the way those things work. I… I worked for years and years on a poem of Rimbaud's, the… Le Bateau Ivre — The Drunken Boat — wonderful, long, long, marvelous poem. And I just felt… the… well, for the first time I saw how… how much you can talk about things like… his dissociation from his family… how his father fled from his mother, how he became a homosexual and now feels sealed off. And somehow, in… it… it's left with a… a picture of a… of man in a little boat, a scow out in the water, anchored in the mud, unable to reach this flower or that flower. And suddenly, these little, local details are telling you about the whole nature of this man's life. What… what images of that sort can do. And I… I don't think I ever would've got that if I hadn't been working with it so intimately that I was trying to translate it. I don't think I can say more about it.
American poet WD Snodgrass, entered the world of poetry with a bang winning several awards, including the Pulitzer Prize, for his first collection of poetry, Heart's Needle. A backlash followed his controversial fifth anthology "The Fuehrer Bunker", but in recent years these poems have been reassessed and their importance recognised.
Title: Fathoming the original meaning in translated poems
Listeners: William B. Patrick
William B. Patrick is a writer and poet who lives in Troy, New York. Among his work are the poetry volumes "We Didn't Come Here for This" and "These Upraised Hands", the novel "Roxa: Voices of the Culver Family" and the plays "Rescue" and "Rachel's Dinner". His most recent work is the non-fiction book "Saving Troy", based on the year he spent following the Troy Fire Department.

Mr. Patrick has been Writer-in-Residence at the New York State Writers Institute and has taught at Old Dominion University, Onondaga Community College, and Salem State College, and workshops in Screenwriting and Playwriting at the Blue Ridge Writers Conference in Roanoke, Virginia. He has received grants from the Academy of American Poets, the National Endowment for the Arts, the Massachusetts Artists Foundation, and the Virginia Commission for the Arts.
Tags: Le Bateau Ivre, The Drunken Boat, Rainer Maria Rilke, Arthur Rimbaud
Duration: 2 minutes, 49 seconds
Date story recorded: August 2004
Date story went live: 24 January 2008