NEXT STORY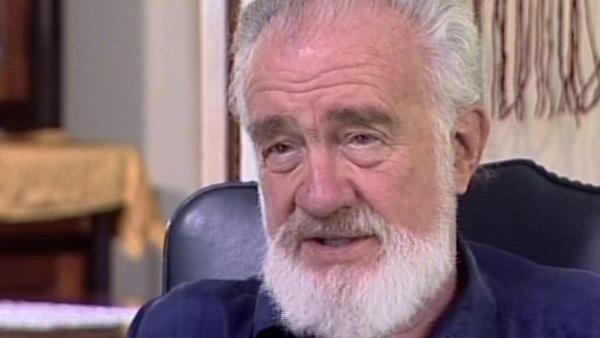 In the Romanian graveyard
'Have you been to the gay graveyard?'
1
...
5
6
7
8
9
10
And so… I… and I came back often and worked on… on folk songs. And every time I came there, people would say to me, 'Have you been to the gay graveyard?' Now, gay didn't mean then what… what it means now. It meant lively, not comical exactly… but, you know, the old meaning of the word gay. As a matter of fact, I… I don't know what that name is in Romanian. I only know maybe three… three words of Romanian. But I… I would keep saying, 'no I… no why would I want to go to a graveyard.' I mean, you know, I've… I've seen graveyards. What… They're dead. Yea… and… but finally, somebody asked me again, and I went.
You know, I had developed really… really pretty close… very close friends there. People are tremen… highly… highly literate and… and you know, at one time they had had a wonderful educational system, and… and there were some terrific poets, and I got to know them. And went… we went with a friend to go to this gay graveyard. Well, I was just stunned the minute I saw it. I thought, you know, I… I've got to… I've got to do something about this. The usual thing they have for a grave there is a plain cross of wood, and probably they carve on it the name of the person and dates, and that's about it. Well, there was a certain man who lived in a little village up in Transylvania. It's called Sãpânta. And his father had been killed in one of the wars. But when he grew up, he then inherited the job of grave carver. And he decided that that's just not enough. And… so what he did is, at the point where the two arms of the cross meet, and he made a much fancier cross than most of them did, with a little roof over it. And where… where the two arms of the cross meet, he would carve a scene out of this person's life. And he would… he would carve it in… in depth. Then he would paint that whole scene in brilliant colors. And then he'd go over the whole cross and decorate it in fancy patterns, usually in… developed from the… the patterns of embroidery. And you know, the peasants wore wonderful embroidered… I mean, the … the… I used to have a couple of these wonderful shirts that came down to here, and it was all embroidered all the way up and down, and… and… well, it was patterned like that. And then he painted the whole… the whole cross in these colors. And of course, this was a little village where the… the major thing was sheep herding. And of course, he knew everybody, so he knew all about their lives. And one of the things he said was, the trouble with… with my job as grave carver is that they all want a different kind of scene, but they've all had the same lives. Well, he knew the… he knew the minor details of their lives, and… and they… he manages to get them all in… into these little scenes. Then, he had been through only third grade, but he could write a couplet underneath there about them.
Well, one day it… it hit him: if I can write a couplet, why not two couplets? Why not four? Why not six, eight? You know, and he would go clear down the cross telling about this person's life. Sometimes he goes over onto the back of the cross, and he goes on there. And he doesn't hold anything back. He tells it all as… as he see… as he saw it. It's like an illustrated Spoon River Anthology. Yeah. Everybody com… compares it to that. I think it's much better. Ah. And… because it doesn't have any of that kind of sentimentality about it. If he thinks you were a lout, he says so. If… if you were a layabout, or, you know, he will say that. In fact, one of the… one of the grave markers says: 'When I was young, I used to think that having good… good drinks and goo… easy women next… or good… good women… pretty women around me was everything'. Says: 'But now that I've got old and grey, they all hate me'. Anyway, and… and you can see three women at the side. I mean, he's sitting there with his little glass at the table, and three women are… are looking in the window and sticking out their tongues at him. And so that many of these… many of these scenes are really quite funny.
American poet WD Snodgrass, entered the world of poetry with a bang winning several awards, including the Pulitzer Prize, for his first collection of poetry, Heart's Needle. A backlash followed his controversial fifth anthology "The Fuehrer Bunker", but in recent years these poems have been reassessed and their importance recognised.
Title: 'Have you been to the gay graveyard?'
Listeners: William B. Patrick
William B. Patrick is a writer and poet who lives in Troy, New York. Among his work are the poetry volumes "We Didn't Come Here for This" and "These Upraised Hands", the novel "Roxa: Voices of the Culver Family" and the plays "Rescue" and "Rachel's Dinner". His most recent work is the non-fiction book "Saving Troy", based on the year he spent following the Troy Fire Department.

Mr. Patrick has been Writer-in-Residence at the New York State Writers Institute and has taught at Old Dominion University, Onondaga Community College, and Salem State College, and workshops in Screenwriting and Playwriting at the Blue Ridge Writers Conference in Roanoke, Virginia. He has received grants from the Academy of American Poets, the National Endowment for the Arts, the Massachusetts Artists Foundation, and the Virginia Commission for the Arts.
Tags: Romania, Transylvania, Sãpânta, Spoon River Anthology, the Merry Cemetery
Duration: 5 minutes, 2 seconds
Date story recorded: August 2004
Date story went live: 24 January 2008