NEXT STORY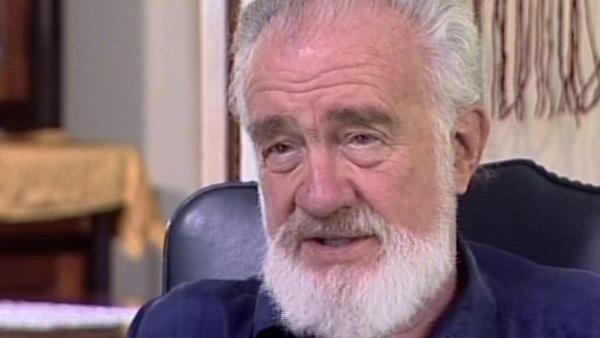 What is a poem?
In the Romanian graveyard
1
...
5
6
7
8
9
10
A… and people used to come from all over the continent to see this. Busloads of tourists would come from France… from different places and… and come to see… to see this graveyard. And you'll see them going around from grave to grave and breaking up into laughter. Yet, at the same time, I've got to say that the effect of the whole graveyard is… is very tragic and very sad indeed, even though the individual graves — some of them — are funny. And… I'd say another thing, too, that for him, the ultimate sin is laziness. He'd much rather you were wicked. And… and so he'll show a guy who's been a policeman all his life. And he says: When I, you know, when I was a kid, I thought… I thought policeman were the greatest. So when I grew up, I became a cop. And… and since I was no fool, everybody hated me. In other words, I was a pretty smart cop and knew how to… how to work it. But it… or… or he'll say: I was a wicked man here in town. There were lots of women. He says: But… but I think I did some good here in this town even though I… there were lots of women who laughed every time they got together with me. And… and in a way, he likes that better than somebody who just hung around the main square and talked all the… all the time and… and… but he would show these kind of things on… on the… on the grave markers. And there's a whole lot of them. There must… oh, there's several. There might be as many as 500. I… I don't think...two or three...
So how many did you translate?
I translated, of those, probably 50 or 80 and made a collection. Then Kathy and I went together, and in one week, we took more than 1000 photographs. It was really fun… we went with a friend of ours, a very literate man that I had worked with on some… some translations, a Ioan Popa, who's a professor. And the three of us worked together on this. What we would do, many of the… the paint will… will grow faded on… on these markers over time. And we found a way to bring back the color was to dampen it. So we got… do you remember flit guns? Oh. They're insect killers. It… You have a little tank here and… and a tube, and… and you pump it like this, and it… well, we… we got… somehow, we found a store where they had flit guns. And we got a couple flit guns, and we carried them around full of water. And so while one person is setting up the camera and getting in focus and… and so forth, the other two of us are spraying away at this thing like everything and trying to get it evenly coated so that the color is all bright and new. And, and we took 1000 photographs in… in a… in a week. And we always had to do that before 11:00 in the morning because by then, the sun was so bright you couldn't take photographs anymore. And anyway, it's… it's in a lovely area full of fruit trees and… and all around the churchyard, there's these church… and then the pretty little church there beside it. And after… after our full week, the rain broke for the first time. And so… so we went.
And by… by now, the grave carver was dead. He was known as Patras, which means… it… it's related- it's like, pet… 'petrified'. He was a woodworker — Patras — His real name was Ioan Stan, meaning Stan. Stan was his family name. Ioan — John — Stan. But nobody called him that; he was always called Patras. Well, the way a doctor, you call, doctor, how are you? And… and he became really quite well to do. And he's probably the wealthiest man in town there. But he was… he was dead the last time we went there. And one of his disciples had taken over. And we went and had supper in his... had our lunch while it was raining in his cabin, in his house. And his disciple brought us over examples… what the… what they drink, is… it's a brandy. It's like Slivovitz, called… they call it Tzuica — plum brandy — and it's very strong. And if you get the stuff the peasants make, it's… it's really great. And then, if they add… sometimes, they will add a fruit flavor to it. And I forget what it's called then. And anyway, the disciple brought us over some bottles of this that had been put up by Patras himself 10 years before. And… and we got very, very looped and we went out with the flit guns and were chasing each other through the graveyard in the rain.
American poet WD Snodgrass, entered the world of poetry with a bang winning several awards, including the Pulitzer Prize, for his first collection of poetry, Heart's Needle. A backlash followed his controversial fifth anthology "The Fuehrer Bunker", but in recent years these poems have been reassessed and their importance recognised.
Title: In the Romanian graveyard
Listeners: William B. Patrick
William B. Patrick is a writer and poet who lives in Troy, New York. Among his work are the poetry volumes "We Didn't Come Here for This" and "These Upraised Hands", the novel "Roxa: Voices of the Culver Family" and the plays "Rescue" and "Rachel's Dinner". His most recent work is the non-fiction book "Saving Troy", based on the year he spent following the Troy Fire Department.

Mr. Patrick has been Writer-in-Residence at the New York State Writers Institute and has taught at Old Dominion University, Onondaga Community College, and Salem State College, and workshops in Screenwriting and Playwriting at the Blue Ridge Writers Conference in Roanoke, Virginia. He has received grants from the Academy of American Poets, the National Endowment for the Arts, the Massachusetts Artists Foundation, and the Virginia Commission for the Arts.
Tags: Ioan Popa, Stan Ioan Pătraș
Duration: 5 minutes, 32 seconds
Date story recorded: August 2004
Date story went live: 24 January 2008