NEXT STORY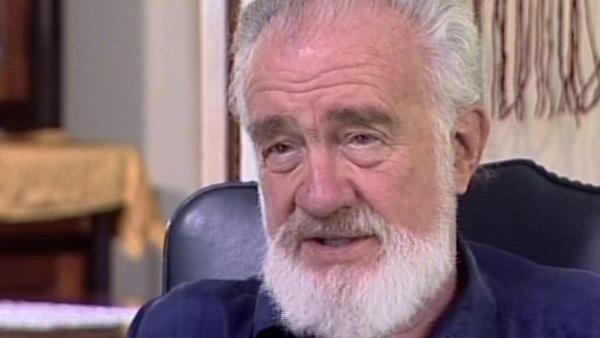 Gangs, fighting and non-violence
A strict upbringing the Presbyterian way
1
2
3
4
5
...
10
Well, we went to what was called a United Presbyterian Church. These were... these people... these people had all come from Scotland and the rich people were Presbyterians, or... or upper middle class. Sort of middle, middle class people were like us, we were United Presbyterians. The poorer people were Reformed Presbyterians, and they were very strict and they ran the college, for instance. You could not... you could not have dances on the campus or even at buildings down in the town. You... you couldn't smoke; the result was — especially after World War II — all... all the students would run out in front of the college and smoke... smoke like fury and... and then, you know, throw down the... when... so when you... you went to go in the main campus of this college you had to sort of wade through piles of cigarette butts. It was a... a very... at the same time they seemed to be much freer about sex than... than others... other Presbyterian sects; I don't mean that pun either. They... in the chapel meeting — we had to have chapel every... every day and sometimes we would have little chapel skits and things like that and since I'd sort of become the class clown in high school, I... I tended... tended to do things like that again there — but in the chapel skits they would always talk about guys taking girls out to the big rock which was a... was a wooded area that overlooked the river and they seemed to be almost encouraging you to get sexually involved and... but... but you know, smoking was... was very bad. There's a joke now about... about the Scots about why... why they hate... why they hate sex: it could lead to dancing. And they seemed to be sort of that way.
American poet WD Snodgrass, entered the world of poetry with a bang winning several awards, including the Pulitzer Prize, for his first collection of poetry, Heart's Needle. A backlash followed his controversial fifth anthology "The Fuehrer Bunker", but in recent years these poems have been reassessed and their importance recognised.
Title: A strict upbringing the Presbyterian way
Listeners: William B. Patrick
William B. Patrick is a writer and poet who lives in Troy, New York. Among his work are the poetry volumes "We Didn't Come Here for This" and "These Upraised Hands", the novel "Roxa: Voices of the Culver Family" and the plays "Rescue" and "Rachel's Dinner". His most recent work is the non-fiction book "Saving Troy", based on the year he spent following the Troy Fire Department.

Mr. Patrick has been Writer-in-Residence at the New York State Writers Institute and has taught at Old Dominion University, Onondaga Community College, and Salem State College, and workshops in Screenwriting and Playwriting at the Blue Ridge Writers Conference in Roanoke, Virginia. He has received grants from the Academy of American Poets, the National Endowment for the Arts, the Massachusetts Artists Foundation, and the Virginia Commission for the Arts.
Tags: United Presbyterian Church, Scotland, Reformed Presbyterians
Duration: 2 minutes, 22 seconds
Date story recorded: August 2004
Date story went live: 24 January 2008